GREAT WINES WITH A WELL-KEPT SECRET
Chénas is the smallest appellation in Beaujolais in terms of surface area. It is named after the ancient oak forests formerly covering the commune, cleared by the Gallo-Romans then by the local monks by order of Philip V of France, known as 'The Tall'. The vines stretch across rolling hills and valleys. These gamay grapes express notes of small black fruit, peony and spices highlighted by mellow tannins.
The Chénas appellation: an overview
Straddling the communes of Chénas and La Chapelle-de-Guinchay, this Beaujolais appellation doesn't go unnoticed… Over 120 wine producers work hard on a daily basis to cultivate their gamay vines to create some rare, but outstanding wines.  Chénas covers the smallest surface area in the Beaujolais region, but has everything it takes to make a great wine!
Commune

Chapelle-de-Guinchay, Chénas

Lieux-dits

Aux Bois Retour
Les Brureaux
En Rémont
Les Journets
Les Gandelins
Les Melardières
Les Daroux
En Perelle
En Nervat
Aux Blémonts
Les Paquelets
Les Boccarts

Altitude

260 metres

Soil

Granite (47%), piedmont deposits (49%)

Surface Area

250 hectares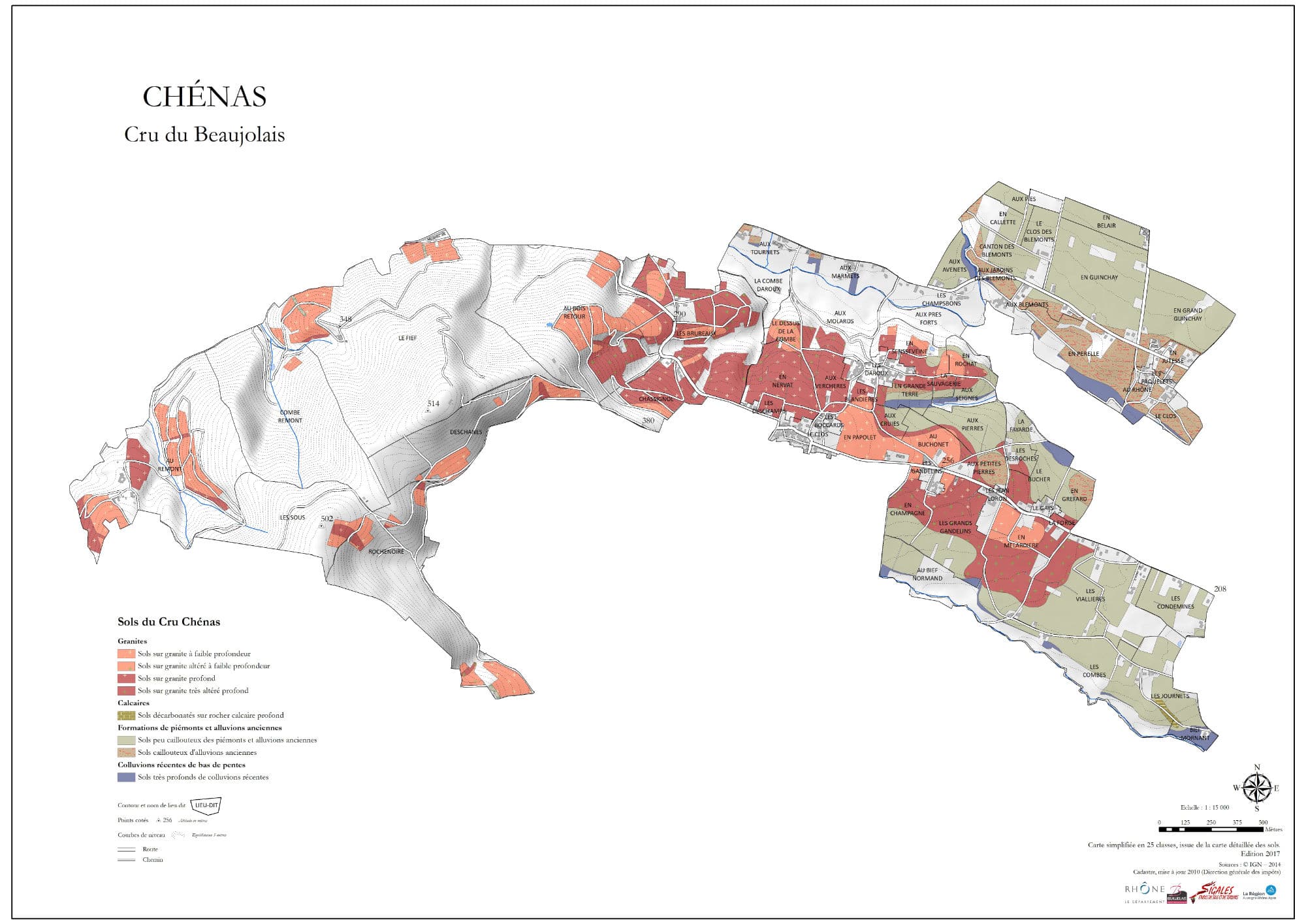 Characteristics
of Chénas appellation
Tasting

Generous, structured, silky

Tasting occasion

Special occasions, festive meals, dinner with guests, aperitifs

Nose

Notes of small black fruit, peony and spices

Culinary suggestions

Pulled pork tacos, sauce au yaourt, bundt cake glaçage cerises

Colour

Ruby with garnet hues

Serving temperature

15-17°C

Palate

Generous and tender
Learn more
about the Chénas appellation
A wine steeped in mystery
"A place planted with oaks": that's what the name Chénas means.
The name comes from a legend that tells of a huge oak forest that once stood where the Beaujolais vines now grow. Once upon a time, a man from Liguria arrived in the village, hauling a load of vines, and got it into his head to cut down all the trees and plant his vine stocks there.
Cleverly, the man used the wood from the oaks to make barrels where he could store his harvest. One day, he heard voices telling him to taste the grapes he had harvested. The pleasure was intense! So much so that the man started singing all the notes in the entire musical scale, or gamut. As such, Gamay came into being! Nevertheless, a royal decree of 1316 seems to contradict this nice little tale. The decree mentions an order to uproot the oaks on the slopes of Rémont, precisely for the same reason – to plant a vineyard there.
A wine with racy flavours
In any case, legend or royal decree, one thing is clear: oaks once stood proudly where Chénas vines now grow. Hence, the majestic trees left their mark on the terroir, allowing the vines to draw all their strength and character from the soil.
Helped along by the granitic soil, the rare, yet generous Chénas vines produce a bouquet with strong character. Spices and wood accentuate the complex harmony of this floral wine. It is no coincidence that this Beaujolais cru is often described as "a bouquet of flowers in a velvet basket".
A wine in perfect harmony with local produce
Collectors appreciate this rare appellation from the Beaujolais vineyards for its cellaring potential. Over time, the wine dons a deep garnet colour, while the floral notes fade away. After 8 to 10 years, Chénas takes on its racy bouquet, releasing fleshy aromas.
If cellared for that length of time, it can be brought out on a special occasion when traditional cooking is the order of the day.
With their subtle woody notes, Chénas wines pair deliciously well with chicken casserole, grilled rib steak, steak with maître d'hôtel butter or roast rack of pork. All dishes with enough character to stand alongside the prestigious Beaujolais appellation!
Chénas draws character and strength from the history of its soil. Once an oak forest, this Beaujolais vineyard now produces one of the rarest and most phenomenal appellations in the region. As for the legend surrounding this magnificent place, you're free to choose your favourite story, and share it with your guests afterwards…
More appellations
to discover