Thai-style veal blanquette
Medium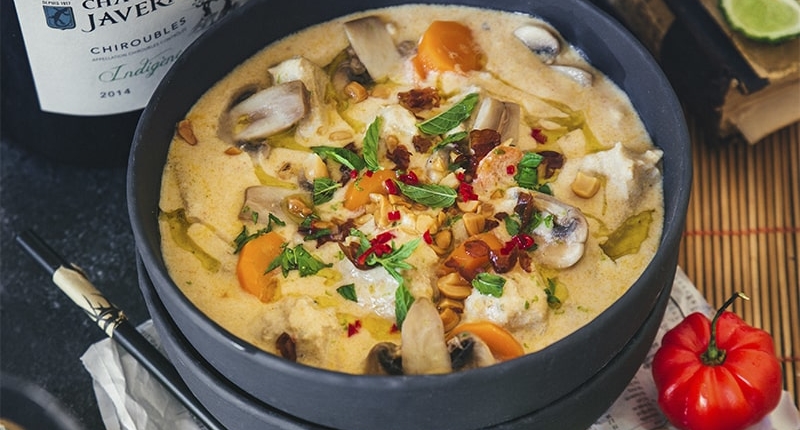 Ingredients
600g boneless shoulder or back rib of veal
1 stalk lemongrass
1cm piece fresh ginger
1 small red chilli pepper
50g butter
1½ tbsp flour
2 kaffir lime leaves
1 tbsp curry paste
1 carrot
32g fresh shiitake mushrooms
20cl coconut milk
1 egg yolk
1 kaffir lime (combava), juiced
½ bunch coriander
Preparation
Step 1

Cut meat into cubes. Cut lemongrass into chunks. Peel and finely slice ginger. Slice chilli peppers.

Step 2

Brown 40g butter in large frying pan (or wok) then add veal cubes. Season with salt and pepper, and leave to brown. Add flour and stir to baste meat.

Step 3

Cover with cold water, add lemongrass, kaffir lime leaves, chillies and curry paste then cover and simmer on low heat for 2 hrs 30 mins.

Step 4

Wash, peel and slice carrots. Add them to meat and continue cooking for 30 mins.

Step 5

Meanwhile, slice the shiitake mushrooms and sear in remaining butter for a few minutes.

Step 6

Remove meat and carrots from pan, stir in the coconut milk, cover and reduce for about 10 mins.

Step 7

Beat egg yolk together with a ladleful of sauce. Add the kaffir lime juice, blend well then pour back into pan, whisking briskly. Then stir in the remaining 10g butter and mix well.

Step 8

Put the meat and vegetables back into the sauce and keep warm until ready to serve.

Step 9

Sprinkle with chopped coriander and serve with Thai rice.