Bundt cake with cherry icing
Easy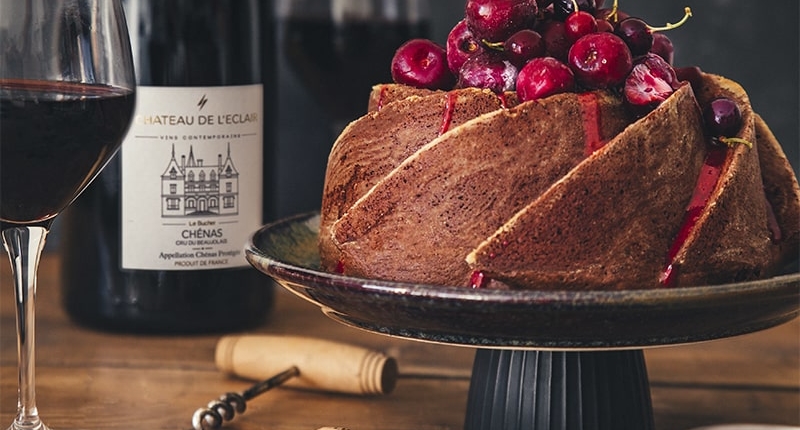 Ingredients
70g dark chocolate
40g butter
1 egg
75g + 10g sugar
6cl milk
90g flour
¼ sachet baking powder
1 tbsp unsweetened cocoa
½ tsp vanilla extract
Half a dozen pitted cherries
20g white chocolate
1 tbsp cherry juice
1 drop red food colouring
1 handful cherries
A few chocolate shavings
Preparation
Step 1

Preheat oven to 160°C.

Step 2

Melt chocolate and butter in a bain-marie (one saucepan fitted on top of another containing barely simmering water).

Step 3

In a mixing bowl, whisk egg yolks with 75g sugar until mixture whitens.

Step 4

Stir in milk, flour, baking powder, unsweetened cocoa and vanilla extract, then add the melted chocolate and butter.

Step 5

Whisk the egg whites until stiff, adding 10g sugar at the end to tighten them. Using a spatula, stir them into the mixture gently.

Step 6

Halve the cherries, flour lightly and add to the batter.

Step 7

Pour the batter into buttered Bundt cake tin and bake for 40-45mins.

Step 8

Let the cake cool down for about 10 mins before turning out onto a wire rack to remove from tin gently. Allow to cool completely.

Step 9

Make the icing by putting all the ingredients into a small saucepan and warming on low heat, stirring until icing is smooth.

Step 10

Drizzle the icing over the cooled cake immediately. Decorate with cherries and chocolate shavings. Store in a cool place until ready to serve.