Pulled pork tacos with yogurt sauce
Easy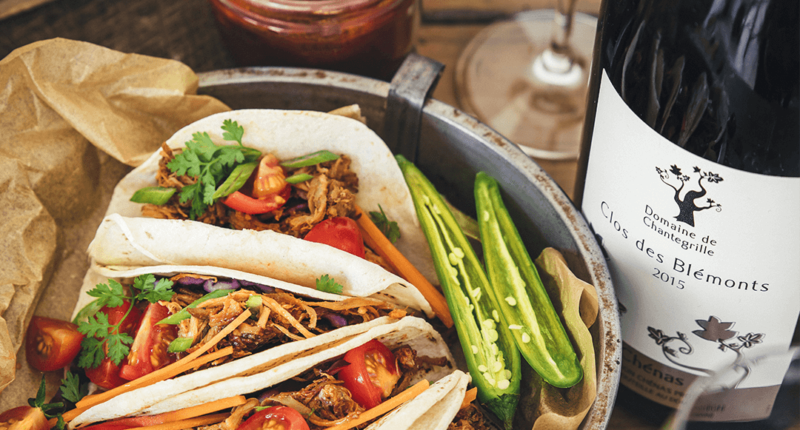 Ingredients
1 roast of pork shoulder (750g)
½ onion, finely chopped
1 garlic clove, finely chopped
1 tbsp wine vinegar
50g tomato concentrate
3cl cider vinegar
6cl chicken stock
50g brown sugar
1 tbsp Worcestershire sauce
1 tsp chilli powder
½ tsp paprika
15 corn tacos
½ red cabbage, thinly sliced
2 carrots, grated
125g cherry tomatoes
1 small jalapeno pepper, thinly sliced
2 scallions, finely chopped
1 plain yogurt
2 tsp olive oil
1 garlic clove, crushed
Preparation
Step 1

Preheat oven to 140°C.

Step 2

Brown the pork roast on all sides in an ovenproof casserole pot. Season with salt and pepper, add the onion and sauté until golden brown.

Step 3

In a large bowl, mix the marinade ingredients together, then pour the mixture over the pork shoulder. Cover and bake for 5 hrs, turning the pork over halfway through, and basting it with sauce regularly.

Step 4

Remove the meat from the oven and pull it apart with a fork to shred. Put the rest of the marinade in a sauceboat. Allow to cool completely.

Step 5

Heat the tacos in a frying pan to warm them up slightly.

Step 6

Fill each taco with a little pulled pork and the different veggies. Garnish with jalapeno pepper and chopped scallion.