Dutch baby pancakes with mushrooms
Easy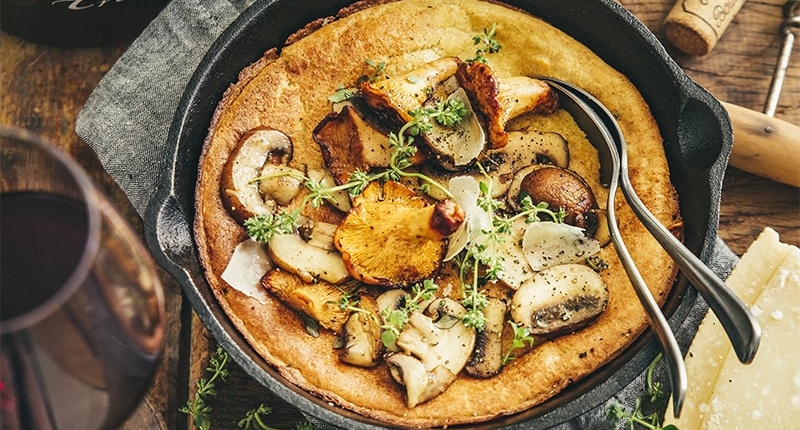 Ingredients
130g flour
70g hazelnut powder
30g parmesan, grated
Pinch of fine salt
5 large eggs
30cl buttermilk
12g butter
Pinch of salt
120g assorted mushrooms
A few sprigs of thyme
A few shavings of parmesan
Salt and ground pepper
Preparation
Step 1

Combine the flour, hazelnut powder, grated parmesan and salt. Set aside.

Step 2

Crack the eggs straight into the blender, add the buttermilk and blitz until smooth. Add the flour mixture and blitz again. Leave batter to stand for 30 mins.

Step 3

Heat oven to 210°C

Step 4

Place 2 small 25-cm ovenproof frying pans in the oven to heat up so they'll be red hot and ready to use. Place a small dollop of butter in each pan and put them back into the oven for 2-3 mins so the butter is completely melted. Pour the batter into the pans and bake for about 15 mins.

Step 5

Meanwhile, slice the mushrooms. Brown the butter in a frying pan, add the mushrooms and cook over high heat for 2-3 mins. Arrange the mushrooms on top of the Dutch baby pancakes, add the parmesan shavings and thyme. Season with salt and pepper. Serve nice and hot.