Duck breasts with dried fruit and roasted nectarines
Easy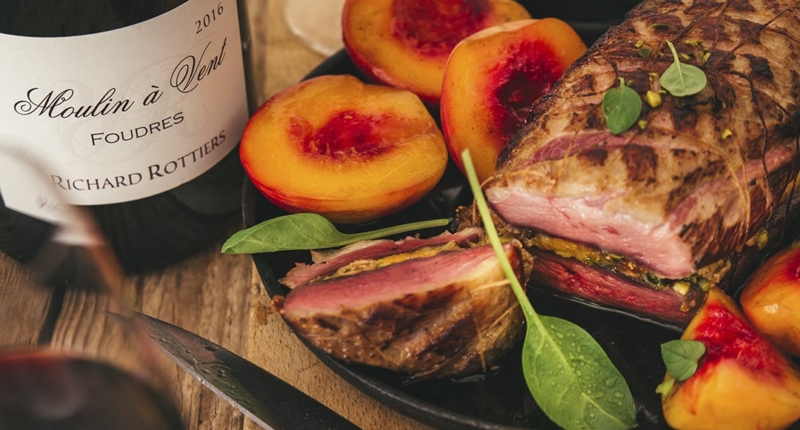 Ingredients
2½ large duck breasts
5 dried apricots
3 dried figs
15g raisins
20g pistachios
1 sprig rosemary
1 sprig rosemary
4 nectarines
20g butter
10g brown sugar
Preparation
Step 1

Preheat oven to 200°C.

Step 2

Thinly slice dried fruit, crush the pistachios, and mix.

Step 3

Score the duck breasts on the skin side without cutting into the meat. Generously salt and pepper the meat side.

Step 4

Place one of the breasts on the skin side on a cutting board and prepare string to tie up the roast. Spread a third of the dried fruit mixture over the duck breast and cover with another breast, meat side down. Tie the duck breasts together tightly so the fruit stuffing doesn't fall out. Repeat for the remaining duck breasts.

Step 5

Sear them in a fat-free frying pan to char them on both sides, then set aside.

Step 6

Cut the nectarines in half and remove the stone.

Step 7

Place the duck roasts on an ovenproof baking tray, arrange the nectarines round side down, add the chunks of butter, and sprinkle the fruit with brown sugar. Bake for 15-20 mins.

Step 8

Remove the duck breasts from the oven, untie, slice and serve with the roasted nectarines.