Mexican-style rib of beef with bell pepper salsa
Easy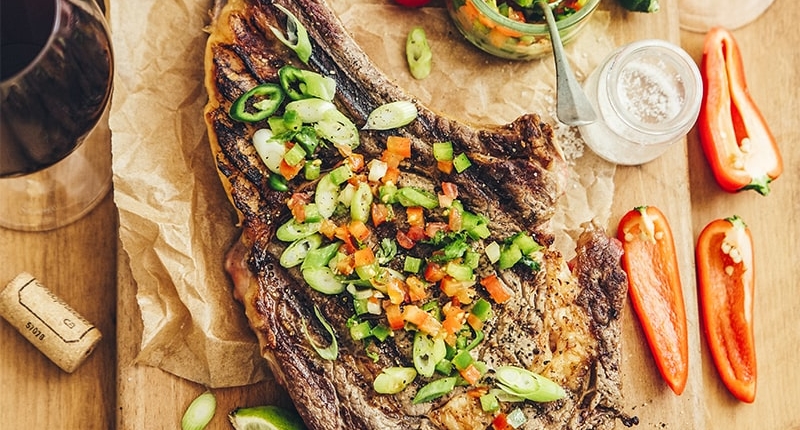 Ingredients
½ new onion
½ garlic clove, crushed
1 red bell pepper
1 green bell pepper
1 half-dozen cherry tomatoes
2 tbsp olive oil
1 tbsp sherry vinegar
1 tbsp coriander, chopped
1 rib of beef, approx. 1.2kg
1 garlic clove
½ tbsp thyme
½ tsp sweet chilli pepper
1 tsp black pepper
1 tsp brown sugar
1 tbsp sea salt (fleur de sel)
Preparation
Step 1

Deseed the bell peppers and remove the white insides, which are bitter. Cut the peppers in very small dice (brunoise). Do the same with the onion and cherry tomatoes. Add the finely- chopped garlic. Tip the vegetables into a large bowl, season with salt and pepper.

Step 2

Drizzle a little vinegar and olive oil onto the salsa before covering with cling film. Refrigerate for a few hours so the flavours blend together. Add the coriander just before serving.

Step 3

Meanwhile, crush the garlic clove in a mortar with a pinch of salt to make a paste.

Step 4

Add the remaining spices and sugar to the garlic paste. Place the rib of beef into a roasting tin and slather it with the mixture. Cover with cling film and store in the fridge for at least 2 hours.

Step 5

Remove the beef from the fridge at least 1 hr before cooking to avoid thermal shock.

Step 6

Heat up the barbecue then char the meat for a few minutes on each side. Lower the heat, and continue grilling until desired degree of doneness (count 7-8 mins on each side for rare meat). Remove the meat and leave to rest for a few minutes before serving. Serve with Criolla salsa.