Rib of beef with raspberry shallot sauce
Easy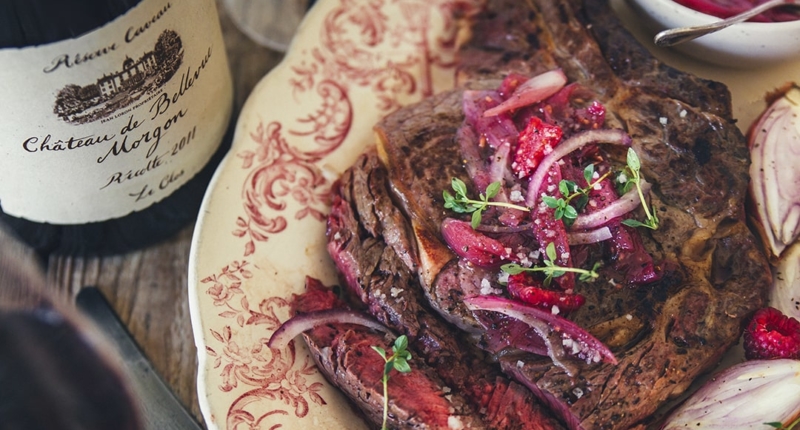 Ingredients
4 shallots
20g butter
30g raspberries (fresh or frozen)
1 tbsp honey
1 tbsp cider vinegar
1 tbsp apple juice
Salt and ground pepper
1kg potatoes
Sea salt and ground pepper
½ bunch fresh thyme
1 sprig rosemary
2 bay leaves
A pinch of Cayenne pepper
Olive oil
10g softened butter
1 rib of beef, approx. 1kg
A pinch of sea salt (fleur de sel)
Black pepper
Preparation
Step 1

Preheat oven to 200°C.

Step 2

Rinse and dry potatoes, then cut into sticks.

Step 3

Arrange them in an ovenproof dish, lined with baking paper, season with sea salt (fleur de sel) and pepper to taste. Add thyme, rosemary, Cayenne pepper and bay leaves. Drizzle with oil and toss to combine.

Step 4

Bake at 200°C for approx. 30-40 mins, turning them several times while baking.

Step 5

Heat the butter in a frying pan and sear the rib of beef for 5 mins on each side to form a brown crust on each.

Step 6

Place the rib of beef in an ovenproof dish and bake for 25-30 mins (count 15 mins for 500g of meat, cooked rare).

Step 7

Meanwhile, melt the butter in a small saucepan. As soon as the butter gets frothy, add the peeled, halved shallots.

Step 8

Cook over low heat for about 20 mins. Stir in the raspberries and continue cooking for 5 mins.

Step 9

Add the honey, vinegar and apple juice. Leave to thicken for a few minutes. Season with salt and pepper. Adjust to taste by adding honey or vinegar to reach the desired sweet-and-sour balance. Keep warm.

Step 10

Leave the meat to rest for a few mins before serving with raspberry shallot sauce and homemade chips.

Step 11

Tip: For the chips (fries), use floury potatoes as they'll hold up better when cooked.