Pavlova with poached pears and caramel
Easy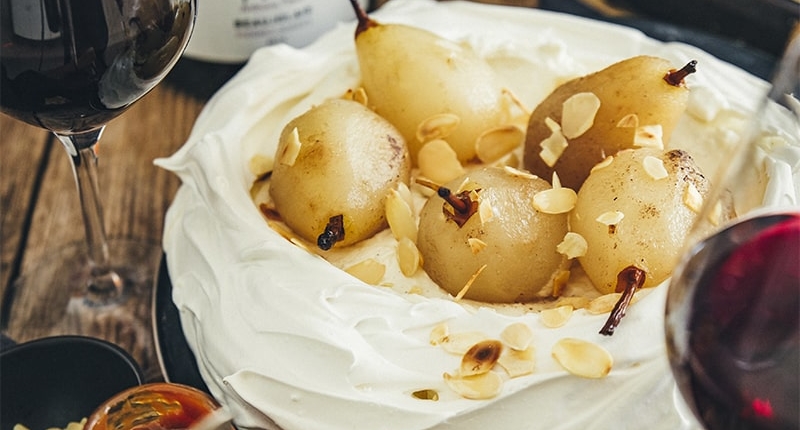 Ingredients
3 egg whites
95g caster sugar
95g icing sugar, sifted
150g 30%-fat single cream, very cold
65g mascarpone, cold
1 vanilla pod
40cl water
200g brown sugar
½ vanilla pod
½ stick of cinnamon
2 seeds from cardamom pod
1 tsp rooibos tea
5 small pears
½ small jar of salted caramel
Preparation
Step 1

Preheat oven to 100°C

Step 2

Clarify the eggs. Pour the whites in a mixer bowl and start whisking at a low, constant speed until frothy. Pour in both sugars gradually and continue whisking until the meringue forms peaks.

Step 3

Spread a circle of the meringue on a baking sheet lined with parchment paper, making a nest shape by flattening the meringue down slightly. Bake for 2 hrs.

Step 4

Place the mascarpone, cream and vanilla seeds in the mixer bowl. First, start whisking at a low, then medium, speed for a few minutes until the whipped cream has increased in volume and gotten foamy, but not too firm. Refrigerate.

Step 5

Bring the water (with the sugar, scraped vanilla pod, spices and tea) to a boil. Add the peeled pears, then cook for about 15 mins until pears are tender.

Step 6

Strain and leave to cool.

Step 7

Just before serving, spoon the whipped cream onto the meringue, top with the cold poached pears and swirl with salted caramel. Serve immediately.