Cheesecake with red fruit
Easy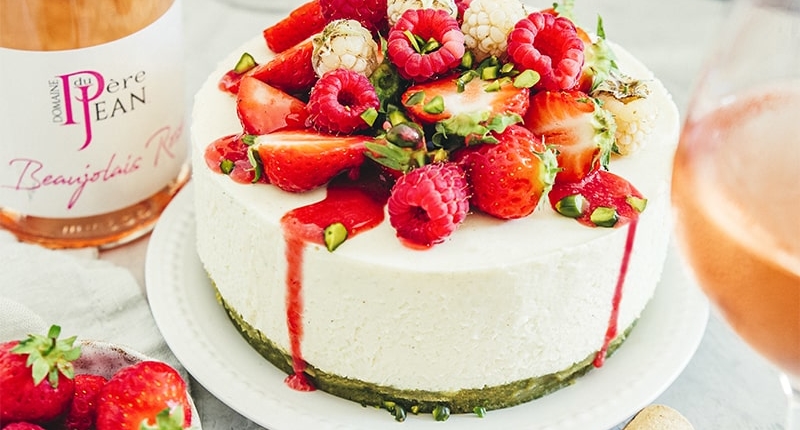 Ingredients
100g shortbread biscuits
10g butter, melted
1 tbsp pistachio paste
3 gelatine leaves
150g white chocolate
90g mascarpone
60g cream cheese
10cl single cream
1 vanilla bean, scraped
50g raspberries
100g red fruit (strawberries, raspberries, etc.)
10g pistachios, crushed
Preparation
Step 1

Crush the shortbread biscuits and mix them with the melted butter and pistachio paste. Line the bottom of a 25-cm springform tin with the mixture, smoothing down with the back of a spoon to make even. Refrigerate.

Step 2

Soak the gelatine leaves in a little cold water for 5 minutes.

Step 3

Break the chocolate into chunks and melt in a bain-marie (one saucepan fitted on top of another containing barely simmering water). Heat 3cl of cream, add the drained gelatine and stir well to dissolve and blend. Add the gelatine cream to the chocolate.

Step 4

Whisk the mascarpone, remaining single cream and scraped vanilla bean together, then stir in the white chocolate. Keep whisking for a few minutes.

Step 5

Sprinkle the cheesecake base with raspberries. Pour the mixture on top of it. Refrigerate for at least 5 hrs.

Step 6

Remove the cheesecake carefully from tin, decorate with red fruitand a few crushed pistachios. Store in a cool place until ready to serve.