Pork roast with apples and chestnuts
Easy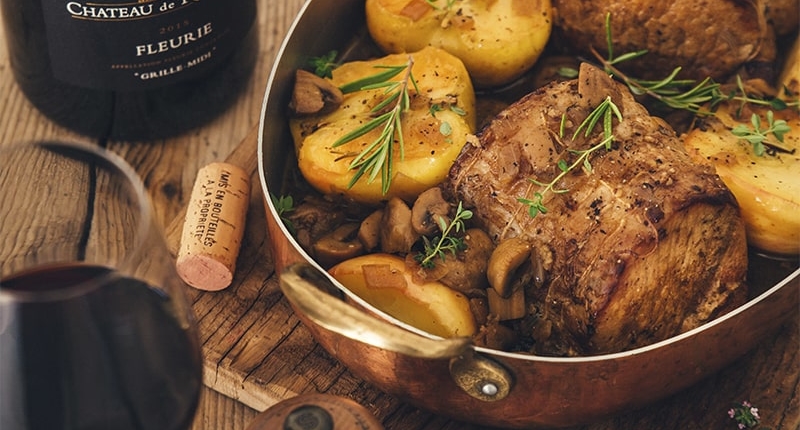 Ingredients
1 onion
1 garlic clove
1 tbsp olive oil
1kg pork fillet
¾ glass white wine
250g chestnuts (jar), rinsed and strained
150g button mushrooms
4cl water
3 sprigs of rosemary
Salt and pepper
10 apples
1 organic lemon
15g brown sugar
15g butter
A few sprigs of thyme
Preparation
Step 1

Preheat oven to 180°C

Step 2

Mince the onions and chop the garlic. Heat the oil in an ovenproof casserole pot and sauté the garlic and onions over a low heat for a few minutes until the onions are translucent. Remove and set aside.

Step 3

In the same casserole pot, brown the pork fillet on both sides for approx. 10 mins. When it is nice and brown, deglaze with white wine, scraping the bottom to get all the juices.

Step 4

Halve the chestnuts. Add the minced onion, chopped garlic, sliced mushrooms and chestnuts then simmer for a few minutes, stirring often. Season with pepper.

Step 5

Sprinkle with rosemary, add the water. Cover and bake in oven for 1hr 30 mins. Remember to drizzle the meat with its cooking juices while it is in the oven to moisten and tenderise it.

Step 6

Meanwhile, wash the apples and cut them in half. Drizzle with lemon juice to prevent them from turning brown. Lay them on a baking sheet, round side down. 15 mins before the roast is finished cooking, sugar and butter the apples, add the thyme then bake in oven for 15 mins.