Roasted chicken and crispy potatoes with gremolata
Easy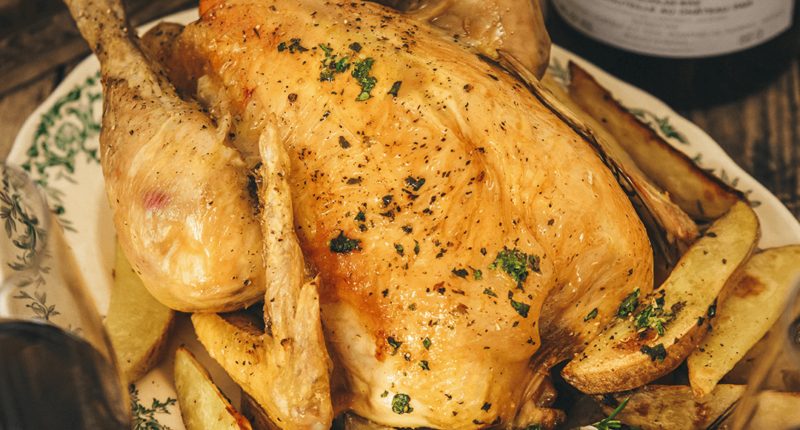 Ingredients
½ bunch flat-leaf parsley
2 garlic cloves
2 organic lemons, zested
1kg potatoes
5 tbsp olive oil
1 large free-range chicken (approx. 2kg)
40g butter
Salt and ground pepper
Preparation
Step 1

Preheat oven to 210°C

Step 2

Start by making the gremolata. Finely chop the parsley. Peel the garlic cloves and crush in garlic press. Combine the lemon zests, chopped parsley and garlic.

Step 3

Rinse the potatoes. Without peeling them, cut into quarters.

Step 4

Place the potatoes and the gremolata in a large bowl, drizzle with olive oil. Salt, pepper and mix well. Place in an ovenproof dish.

Step 5

Season the chicken with salt and pepper, inside and out. Butter it.

Step 6

Place the chicken on top of the potatoes. Add a glass of water and bake in oven for about 20 mins. Then lower oven temperature to 180°C and continue cooking for approx. 40 mins, basting the chicken regularly with the cooking juices.

Step 7

Once cooking is complete, cover the chicken with foil and let sit for about 15 mins before slicing.