Sugar tartlets
Easy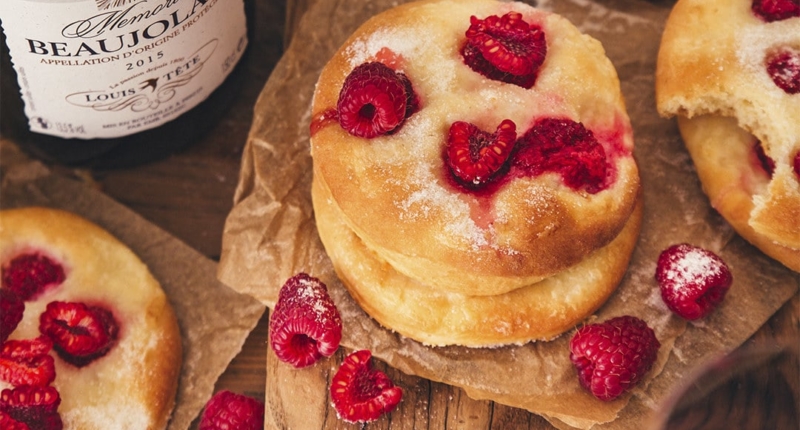 Ingredients
2.5cl milk
5g baker's yeast
45g butter, cold
125g flour
15g + 25g caster sugar
Pinch of salt
1 egg
A little double cream
75g raspberries
Preparation
Step 1

Warm the milk and add the crumbled yeast. Cut the butter in little cubes and set aside in the fridge so it stays nice and cold.

Step 2

In a mixer bowl, tip in the flour, the milk and yeast mixture, 15g sugar, the pinch of salt and the egg.

Step 3

Knead until the dough forms a ball that doesn't stick to the bowl, then add the cold butter gradually while continuing to knead until the dough is slightly bouncy.

Step 4

Cover the dough with a damp cloth and leave somewhere warm to rise for about 1hr, to double in size.

Step 5

When the dough has puffed up nicely, knock the air out of it, then roll it out so that it is about 5mm thick, and cut out rounds with a pastry cutter (or keep it whole for a bigger tart to share).

Step 6

Arrange the tartlets on a baking sheet lined with parchment paper and leave to rise for about 30 mins.

Step 7

Preheat oven to 200°C.

Step 8

Press on the dough with your finger to make bumps. Spread a teaspoonful of double cream on each tartlet, top with the raspberries and sprinkle with the remaining caster sugar.

Step 9

Bake for 5 mins then turn temperature down to 150°C and bake for another 10 mins. Serve warm.