Veggie burgers
Easy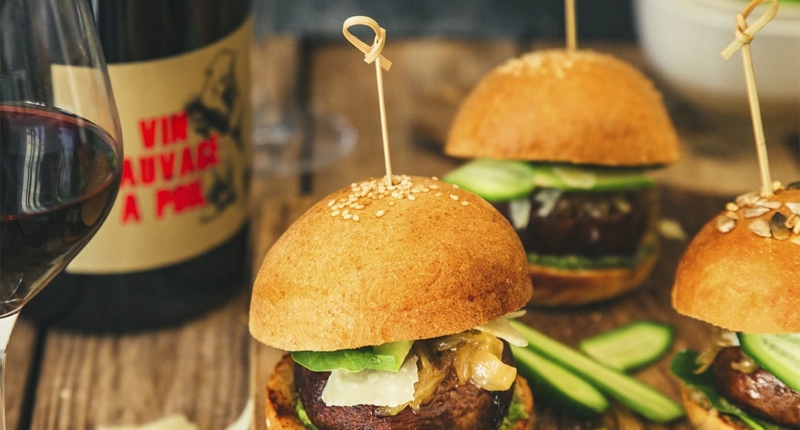 Ingredients
About 10 baby onions
50g brown sugar
½ tbsp cider vinegar
1cl water
10g butter
25g watercress
40g pine nuts
40g parmesan, grated
10cl olive oil
4 burger buns
2 baby cucumbers
30g Jura cheese
4 large Portobello mushrooms
1 handful baby spinach leaves
Preparation
Step 1

Begin by making the onion compote. Peel and mince the onions. Cook them for about 40 mins on low heat in a small saucepan with the cider vinegar, butter, brown sugar and water. Set aside.

Step 2

Then make the pesto by blending the pine nuts, parmesan, watercress and oil until smooth. Set aside.

Step 3

Preheat oven to 200°C.

Step 4

Rinse the baby cucumbers under running water and slice thinly using a vegetable peeler. Cut Jura cheese into thin slices.

Step 5

Rinse the Portobello mushrooms under running water and cut off stems. Brown them in a buttered frying pan, flipping them over halfway through, regularly basting with butter. Season with salt and ground pepper.

Step 6

Cut buns in half and brown 2-3 mins in hot frying pan. Spread bottom bun generously with layer of pesto, two slices of Portobello mushrooms, a few slices of Jura cheese and a tablespoon of the onion compote.

Step 7

Cover with top bun and bake in oven for about 10 mins to melt cheese.

Step 8

Add a few baby spinach leaves and a few slices of baby cucumber. Serve immediately.