Seafood paella
Easy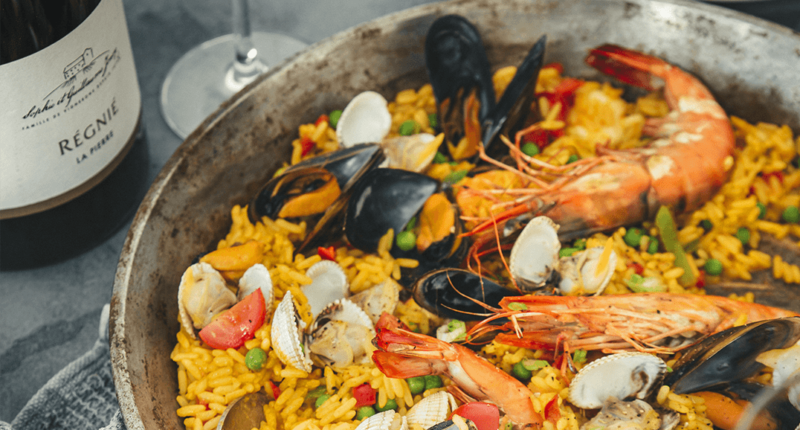 Ingredients
200g mussels
80g cockles
½ onion, minced
1 garlic clove, finely chopped
3 tbsp olive oil
½ red bell pepper
½ green bell pepper
½ small chilli pepper
120g crushed tomatoes
1 bay leaf
1 small sprig thyme
1 sprig rosemary
1 dose saffron (0.3g)
240g round paella rice
10cl dry white wine
0.5l vegetable stock
12 raw prawns
120g shrimp tails
100g squid slices
100g peas
½ bunch flat-leaf parsley
1 lemon
Salt and pepper
Preparation
Step 1

Preheat oven to 180°C

Step 2

Soak the shellfish in a large amount of salted water.

Step 3

Brown the onion and garlic in 2 tbsp of olive oil, season with salt and pepper to taste.

Step 4

Add the bell peppers, washed and cut into strips and the finely minced chilli pepper. Continue cooking for a few minutes. Fold in the crushed tomatoes and bay leaf. Continue cooking for about ten mins. Set aside.

Step 5

Heat the remaining oil and sauté the thyme, rosemary and saffron. Add the rice and "toast" it for 1 min until translucent at the edges. Add the tomato-bell pepper sauce, leave to simmer for 2 minutes, then pour in the white wine and stir until it has evaporated.

Step 6

Pour in the vegetable stock. Bake in oven for 10 mins. Add the prawns, shrimp tails and peas. Cover so the rice finishes plumping up.

Step 7

Place the washed mussels, 'beards' removed, and cockles in a saucepan to open.

Step 8

Remove from shells (keep a few for decoration). Add the shelled mussels and cockles to the paella; use the others to decorate.

Step 9

Garnish with finely-minced flat-leaf parsley and lemon wedges. Serve nice and hot.