A REGIONAL GEM IN THREE COLOURS
The AOC Beaujolais is a regional appellation whose production zone covers all 72 communes of the Beaujolais vineyards, making it the largest of the Beaujolais AOCs. Located mainly in the south of the vineyard, between Arbresle and Belleville, it also includes a few plots along the eastern slopes of
Beaujolais crus, almost as far as Saint-Amour. Over 300 hectares are devoted to producing AOC Beaujolais whites. The chardonnay plots are mainly located in the far north and in the south, around the communes of Liergues, Le Bois d'Oingt and Bully.
THE AOC BEAUJOLAIS: AN OVERVIEW
The Beaujolais appellation officially came into being in 1937. And ever since, it has been known by all – French and foreign consumers alike – especially thanks to its en primeur wines. Flavourful and always likely to amaze you, wines with the AOC Beaujolais label often unleash passions and spark
debates.
Commune

72 producing communes

Altitude

360 metres

Soil

Pink granite, blue stone, limestone, clay, ancient piedmont deposits

Surface Area

3930 hectares
Characteristics
of Beaujolais appellation
Tasting

Balanced

Tasting occasion

year round, for aperitifs with friends, or a festive meal

Nose

floral and mineral aromas

Culinary suggestions

Tahitian salad with marinated white tuna, stuffed chicken, cod with cream sauce, chicken in supreme sauce, fish with cream en papillote, seafood risotto

Colour

crystalline yellow with golden highlights

Serving temperature

8-10°C

Palate

mouth-filling, generous, notes of peach, apricot and sometimes vanilla
Tasting

Enticing, fruity and crisp

Tasting occasion

Aperitifs and meals with friends

Nose

Concentrated with freshly picked, slightly spicy red fruit

Culinary suggestions

Brunch, raw veggies, chicken fricassee, andouillette sausage, poultry terrine, braised veal tenderloins, sugar tarts and raspberry tarts.

Colour

Crimson red

Serving temperature

12-14°C

Palate

Lively, both fresh and round, it brings to mind red berries with delicate tannins. The Beaujolais Pierres Dorées are more structured.
Tasting

refreshing, expressive and accessible to all

Tasting occasion

Lunch with friends, appetizer buffets

Nose

delicate aroma of flowers and red fruit

Colour

glistening, pale with salmon-pink highlights

Serving temperature

5-8°C

Palate

supple, fruity and thirst-quenching
Learn more
about the Beaujolais appellation
Beaujolais: a mosaic-like terroir for a unique appellation
The AOC Beaujolais vineyards stretch out over the departments of the Rhône and Saône-et-Loire, from the Pierres Dorées in the south to the north of the region along the Saône river plain. It's the largest of the 12 appellations that make up the Beaujolais region and it is an appellation in its own right.
Which grape variety is predominant?
The emblematic grape variety for the Beaujolais appellation red wines is gamay noir à jus blanc. Resulting from a cross between pinot noir and gouais, this unique grape variety found in all the Beaujolais region's appellations produces fruity, supple wines. Given the region's size, it includes some of the most complex geological treasures in France.
This early-ripening, fertile grape variety gives the best of itself – assisted by men and women with know-how – as it grows on the clayey-limestone, sandy or granitic soils, which run through the Beaujolais appellation vineyards and provide very diversified typicity.
The Beaujolais appellation: a range in 3 colours
Beaujolais wines come in 3 colours: red, white and rosé.
While, on average, 90% of the Beaujolais appellation produces red wines, the most well-known of which is the internationally-renowned Beaujolais Nouveau, 10% of the production is devoted to white and rosé wines, in equal parts.
The wines are accessible, easy-to-drink and lively, with an attractive crimson red colour, a floral and fruity full-bodied bouquet, and nice aromatic power.
Beaujolais whites are made with chardonnay grapes. The variety's small round berries flourish on the fairly unfertile soils, made up of marl and limestone. Beaujolais whites are golden in colour, with a bouquet full of white flowers, and sometimes vanilla-flavoured, as well as citrus and white flesh fruit aromas. They are increasingly popular with connoisseurs who are pleasantly surprised by their personality and range on the palate.
Last but not least, the Beaujolais rosés – like the reds – are produced using gamay noir à jus blanc, but vinified differently. The bunches are pressed after macerating for a very short length of time. The specific winemaking process explains their glistening colour. These are wines of pure enjoyment.
Refreshing and thirst-quenching, they reveal subtle red fruit aromas combined with citrus, which make them pleasant wines year round. They stand out due to their unrivalled freshness, full of finesse.
How long can a Beaujolais be kept?
Lots of people mistakenly believe that Beaujolais wines don't keep well. Apart from Beaujolais Nouveau, the Beaujolais wines with ageing potential can flourish for several years.
Yet far from that preconceived idea hides a completely different truth: the Beaujolais appellation produces excellent wines that can be cellared for 3 or 4 years. Their fruitiness will lessen and they will suit every palate – from the most novice to the most refined – pairing well with most dishes.
The saga of Beaujolais Nouveau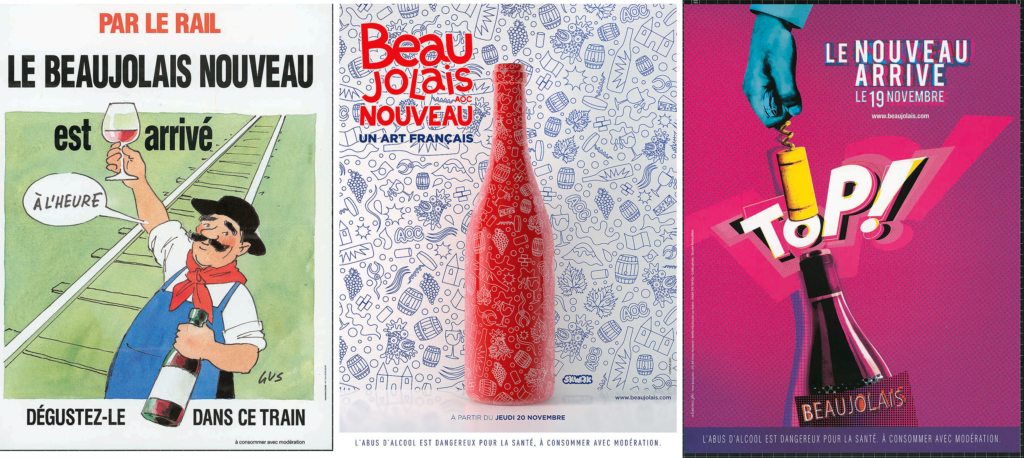 Beaujolais and Beaujolais Villages are the only two AOC that can produce Beaujolais Nouveaux in red and rosé !
For almost 70 years now, the Beaujolais vineyards have upholding the original festive DNA of Beaujolais Nouveau, elevating Beaujolais to the rank of the most famous as well as the most hedonistic and unifying wines of all times. The spirit of the third Thursday of each November also has its roots in Saint Martin's Day, a festival celebrating the end of the winegrowing year and the release of the "new wine" in European countries.
Since the 1950s, this wine-related "happy day" has become modern and gone global, thanks to the Beaujolais vineyards. It was not until a French decree in 1985 that the expression "3rd Thursday of November" became the market release date for the "Nouveau", solely produced by the Beaujolais and Beaujolais Villages appellations. After Western Europe and North America, Beaujolais Nouveau went on to conquer Japan starting in the 80s, then Eastern Europe after the fall of the Berlin Wall, Southeast Asia in the 1990s and more recently China.
Beaujolais Nouveau is still a big hit around the world and now accounts for over 20% of the vineyard's production. Every year, over 160,000 hectolitres are drunk. Thanks to its cheery fruitiness, tens of millions of people get together every year to celebrate their taste for the good life, turning the 3rd Thursday of November into a "happy day" worldwide.
Making "Beaujolais nouveau" relies on the talent and know-how of the winegrowers and négociants. If the maceration vat is run off too soon, the wine will be too lightweight and colourless. On the other hand, if it is done too late, the tannins will be too harsh (for the most part, harvesting by hand, whole-bunch vinification mainly to preserve the aromas and fruitiness). Goal: achieve a pure pleasure wine, without astringency; make a wine that is delicate, refreshing and fruit driven. For years, Beaujolais estates and trading houses have been striving to move upmarket, diversify and offer attractive and innovative packaging. As for influencers, they have decided to put this festive event and pleasure wine back in the spotlight. The third Thursday of November is gradually turning into athird week of November for all Beaujolais wines. The wine shops and wine venues are taking the opportunity to let customers taste and buy the whole range, with "Beaujolais nouveau" remaining the trigger and leading ambassador for the new vintage each year.
ON ANOTHER NOTE…
Made from gamay grapes, the first vintages of Beaujolais & Beaujolais Villages Nouveaux rosés given media coverage were sold in Japan in 2006. In 2007, the Beaujolais Nouveau rosés, appeared on French shelves. Although still produced in small quantities, these refreshing, fruity, expressive and tangy wines are growing in number, from one vintage to the next: from over 2,500 hl in 2007 to almost 14,000 hl in 2019 divided among the two appellations, Beaujolais & Beaujolais-Villages, in other words, a total of approximately 2 million bottles.
More appellations
to discover