THE STRENGTH OF SOLID VALUES
The Morgon cru, overlooked by Mont du Py, is the largest of the Beaujolais crus. The famous Côte du Py is made up of decomposed shale. The appellation's wines offer aromas of stone fruit like sour cherries, with notes of violet and kirsch. Their delicate tannins promise optimal ageing.
The Morgon appellation: an overview
Crafted by 250 winegrowers, Morgon wines draw their strength from the Villié-Morgon terroir to which the appellation owes its name. This famous Beaujolais cru embodies outstanding power that reveals its secrets after a few years. Morgon wines, deep garnet in colour, arouse curiosity and attract fine gourmets.
Commune

Villié-Morgon

Lieux-dits

Côte du Py
Aux Charmes
Corcelette
Grands Cras
Douby
Aux Chênes
Javernière
Château Gaillard
Bellevue
Fontriante

Altitude

310 metres

Soil

Granite (52%), blue stone (37%), piedmont deposits (11%)

Surface Area

1090 hectares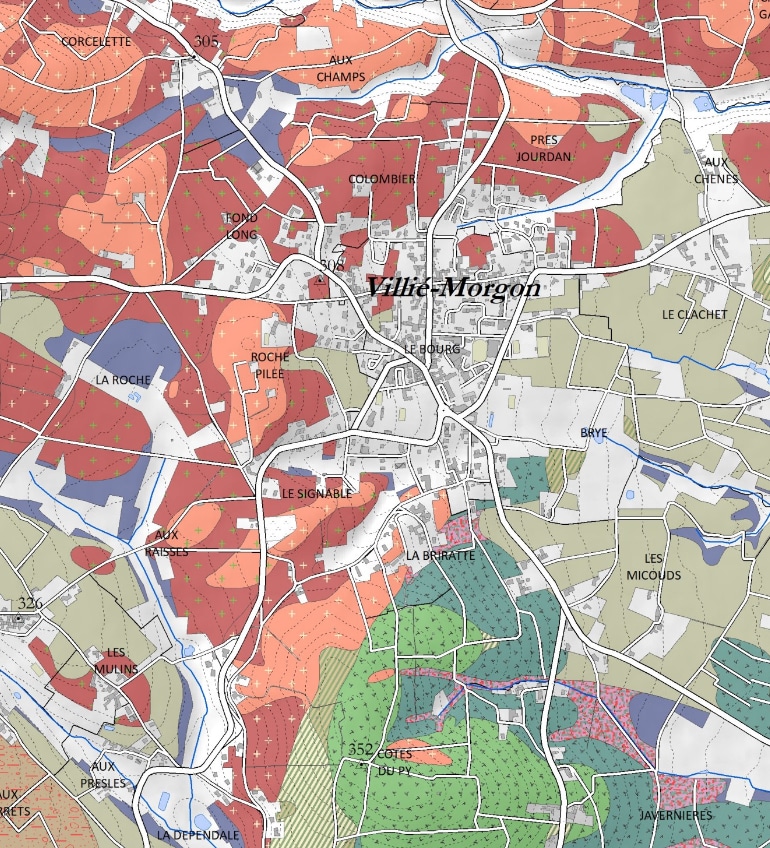 Characteristics
of Morgon appellation
Tasting occasion

Tout le temps

Culinary suggestions

Tout

Serving temperature

Chaud
Tasting

Fleshy, dense, powerful

Tasting occasion

Special occasions, holiday meals, big gatherings

Nose

Ripe stone fruit

Culinary suggestions

Mexican-style rib of beef with bell pepper salsa, rib of beef with raspberry shallot sauce

Colour

Garnet

Serving temperature

15-17°C

Palate

Structured, rich, powerful, fleshy
Tasting

Capricorne

Tasting occasion

Jamais

Nose

Non

Culinary suggestions

Aucune

Colour

Oui

Serving temperature

-30

Palate

Peut-etre
Learn more
about the Morgon appellation
A perfect wine for collectors
If there is one Beaujolais appellation that you'll often find in cellars, it's Morgon. Tending towards excellence, the potential for ageing of this rich, powerful wine is about ten years.
Morgon wines are only produced in 6 very well-known lieux-dits in the Beaujolais region: Les Charmes, La Côte du Py, les Micouds, les Grands Cras, Corcelette and Douby. And, just like Chénas, the vines enjoy the benefits of a mild climate and being bathed in sunshine on a daily basis.
As life is sometimes full of contradictions, an interesting fact about one of the most famous Beaujolais crus is that it grows in soil formed on "rotten rock". That rather unattractive nickname is due to the fact that the rock originates from the decay of shale and igneous rock. Nevertheless, it is precisely that crumbly soil that gives Morgon its character and power!
The expression of a terroir in all its intensity
Morgon wines do the whole Beaujolais region honour by enhancing the intense nature of the terroir, thanks to their bouquet made up of ripe stone fruit. But their power also dwells in their unusual aromas of kirsch and eau-de-vie. Yes, Morgon wines really are unique!
For that matter, this appellation has something so specific about it that a new term has been added to French winegrowing vocabulary: "morgonner", or to morgon. It's a verb that emphasises the particular taste of the wine and how it is an expression of its terroir.
So when wine tasters use that term, they are indeed inferring that Morgon develops excellent qualities as it ages.
Getting the best out of Morgon wines
Morgon wines should be cellared for 5 to 10 years to bring out their subtlest harmonies.
To enhance its intensity and round out its delicious range, a meal should be packed with powerfully flavoured food. Chefs might prepare beef ribs with a raspberry shallot sauce or pork chops to accompany the distinctive Morgon wines.
Grilled white meat would also be a good choice amid this flavourful concerto followed by an encore even being served with the cheese. Cheeses like Camembert, Brie, Brillat-Savarin, Munster, Saint-Marcellin, Neufchâtel or even Livarot all pair well with the cherry, peach and apricot notes of Morgon wines.
However, make sure you store the bottle in the best possible conditions! A constant temperature of 12°C in a slightly humid, unlit place provides the perfect conditions for your Morgon "to morgon", i.e. age well, and become the star of your meal.
Morgon wines – full-bodied and robust – have established themselves as flagship crus in the Beaujolais region, intensely expressing the terroir that produces them. Drawing their strength from a soil that initially appears unwelcoming, they nevertheless manage to bring out the best from it, adding harmony to their bouquet as the years go by. If you are a collector looking for unique, well-structured wines, your wine cellar definitely needs to be stocked with a few bottles of Morgon!
More appellations
to discover