INSPIRING WINES FOR THE CRU WITH TWO SPIRES
The village of Régnié-Durette is especially noteworthy for its church with two spires (built in 1867 based on the design by Pierre Bossan, the architect who later built the Basilica of Notre-Dame de Fourvière). The vines are planted on slopes at an average of 350 metres in altitude, facing southeast. This appellation's wines are light, easy-to-drink and rich in mineral elements, very aromatic, maturing quickly.
The Régnié appellation: an overview
The work of 120 wine growers, Régnié is the youngest of the Beaujolais crus! In fact, it wasn't until 1988 that this appellation was officially recognised. But the newcomer in the family has got a lot to offer. Its favourable geographical location, in between its two brothers, Brouilly and Morgon, produces wines of a unique fruitiness.
For those who would like to learn more about the world of wine, Régnié wines remain affordable and are an excellent way to gain better understanding of Beaujolais crus.
Commune

Régnié-Durette, Lantignié

Lieux-dits

LA BASSE RONZE
LA HAUTE PLAIGNE
LES CHASTYS
VALLIÈRES
LA PIERRE
LES REYSSIERS
AUX BRUYÈRES
OEILLAT
CROIX PENET
LES BOIS
LES BRAVES

Altitude

350 metres

Soil

granite (64%), piedmont deposits (34%)

Surface Area

550 hectares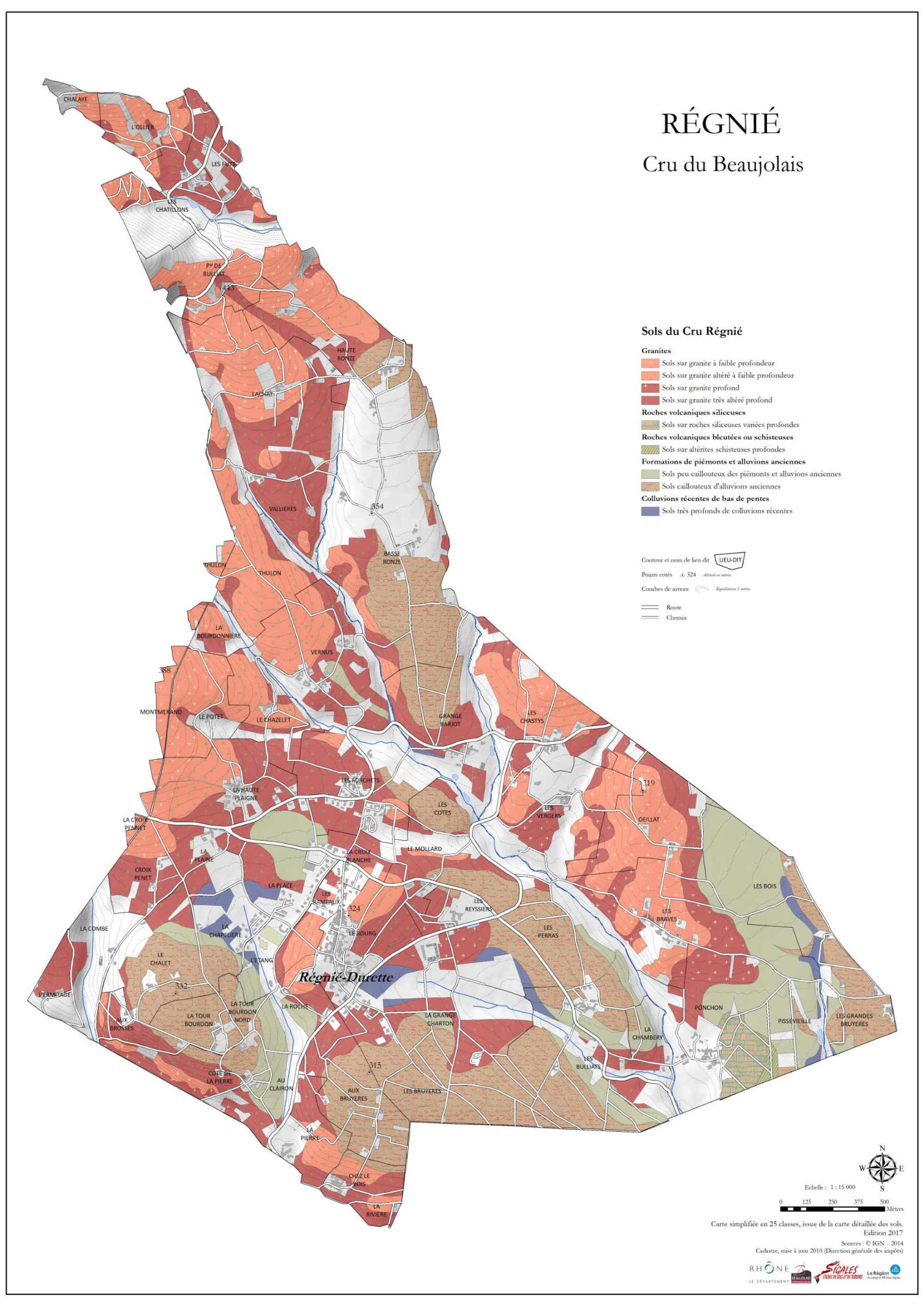 Characteristics
of Régnié appellation
Tasting

suppleness and fruit

Tasting occasion

aperitif, brunch, picnic

Nose

Raspberry, redcurrant, plum, blackberry, blackcurrant with spicy, mineral notes

Culinary suggestions

Veggie burgers, seafood paella

Colour

Cherry or ruby red

Serving temperature

12-14°C

Palate

Red fruit, freshness and structure, delicate tannins
Learn more
about the Régnié appellation
A winegrowing history
Régnié wines are named after this charming commune with its magnificent double-spired church (designed by the architect who built Notre-Dame de Fourvière basilica) nestled on the road to the Loire Valley.
Its strategic location meant that its wines could be easily transported and marketed as far off as Paris, even as early as the 18th century. The elegant fruitiness – from a gamay grape that draws its resources from early-ripening terroirs – makes for a wine enjoyed by all palates, even the most discerning ones.
An aromatic, easy-to-drink wine
The secret of the success of Régnié wines is their delicious taste, which is apparent even when the wine is very young. However, epicureans who prefer more tannic, structured crus, will also find what they are looking for if they leave this wine to age for a few years.
In fact, this Beaujolais cru gets all its originality from the way it ages. If you're taking your first steps in the world of wine, buy two bottles of Régnié. Taste one straight away to start learning how to recognise its red and black fruit aromas. You'll enjoy a supple, fruity wine with a nice long finish.
As for the second bottle, store it in a dry place at 12°C. Continue learning about wine and wait a few years before opening it. Your trained palate and the way the Régnié has developed will allow you to enjoy a wine with refined, mellow tannins, noticeable red fruit aromas and delicate mineral and spicy notes.
A wine to pair with tapas
Thanks to their freshness and affordability, Régnié wines are the perfect accompaniment for evenings with friends. It's also a good opportunity to introduce your friends and family to wine tasting with this delicious wine that reveals its secrets right from the first sip.
This Beaujolais cru will brighten up your appetizer buffets, where you can serve it with charcuterie, cheese and tapas. But don't think of Régnié as just an aperitif wine! After several years of cellaring, it is also a good match for leg of rabbit or duck, red mullet filets and spare ribs.
To end on a high note, serve a chocolate delight, preferably topped with red fruit, to set off the wine's fruity bouquet perfectly and finish the meal in a blaze of glory!
More appellations
to discover