WINE WITH THAT TYPICAL FRENCH CHARM
Brouilly, the southernmost and most extensive of the Beaujolais crus, stretches out at the foot of Mont Brouilly and its chapel (Notre-Dame aux Raisins). The fruit-driven (plum, small red fruit) wines, sometimes with mineral notes, express the gamay bouquet perfectly. Brouilly wines can be enjoyed in their youth. Labelled as a geo-site within the framework of the "UNESCO Global Geopark" network, a panoramic viewpoint has been set up at the top of Mont Brouilly as a showcase of the region's diverse geology.
The Brouilly appellation: an overview
A flagship wine of the Lyon region, the Brouilly cru covers the largest area in Beaujolais. Recognised as an AOC since 1938, it expresses an incredible wealth of flavours that tickle the taste buds of wine lovers and enthusiasts alike.
Commune

Odenas, Quincié-en-Beaujolais, Saint-Lager, Saint-Etienne-la-Varenne, Cercié and Charentay

Lieux-dits

Saburin
Pissevieille, Briante
Pierreux
Combiaty
Les Platures
Les Nazins
La Roche
Les Bruyères
La Terrière

Altitude

290 metres

Soil

pink granite (46%), blue stone (4%), limestone, marl, clay, shale

Surface Area

1200 hectares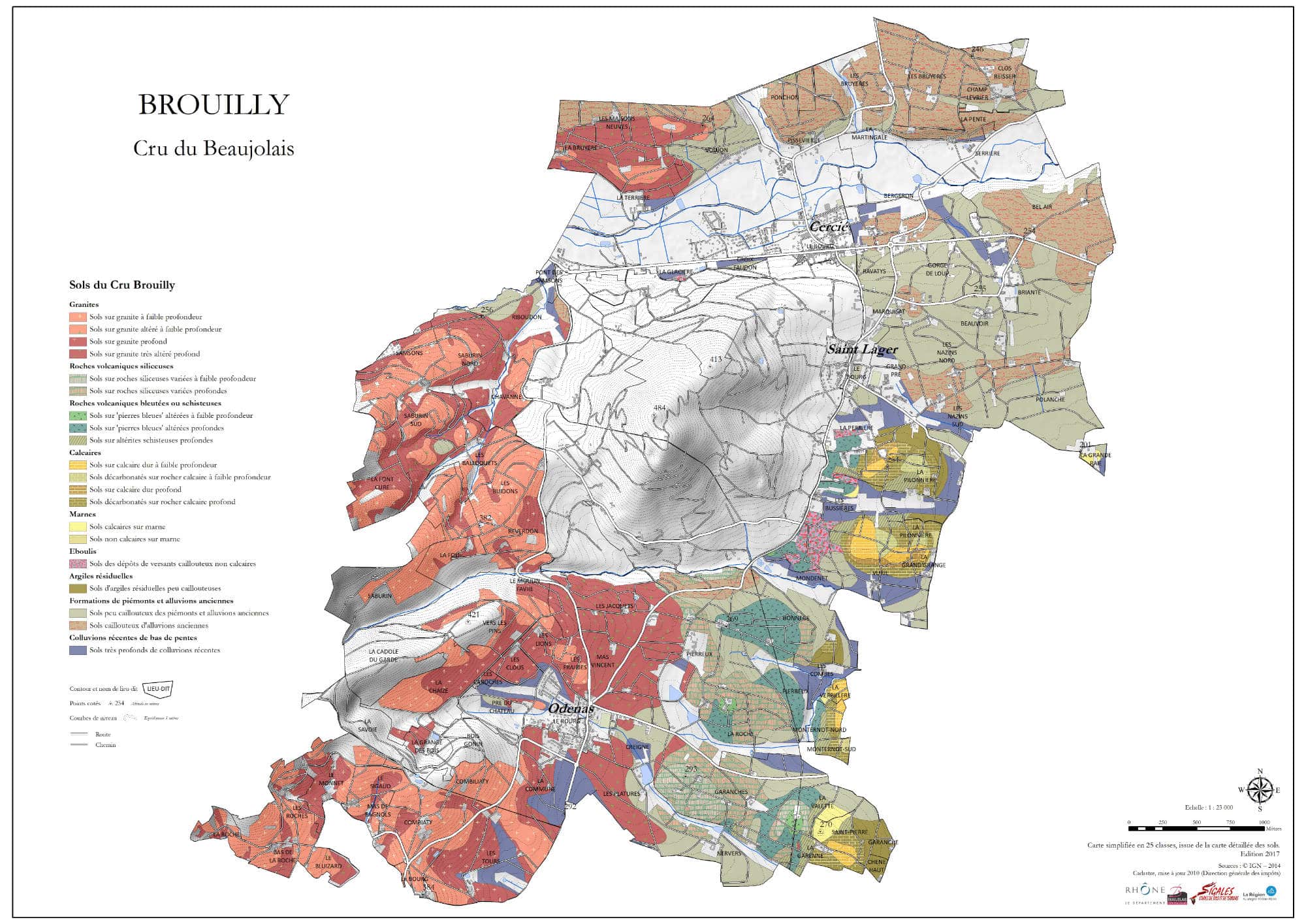 Characteristics
of Brouilly appellation
Tasting

Fruity, round, smooth

Tasting occasion

Festive meals, aperitifs with friends

Nose

Small red fruit aromas dominated by strawberry and raspberry

Culinary suggestions

Carrot cake with coconut icing, veggie couscous

Colour

Ruby red

Serving temperature

13-15°C

Palate

Smooth and round, mellow tannins
Learn more
about the Brouilly appellation
A wine at the crossroads of several terroirs
At the crossroads of 4 distinct terroirs, the Brouilly wines draw their bouquet from an especially rich soil, made up of pink granite, calcareous blue stone and marl.
Covering a surface area of 1250 hectares, the vineyard of this exceptional wine produces over 8 million bottles a year, which are exported worldwide.
The Brouilly appellation, overlooked by Mont Brouilly, attracts thousands of visitors who come to discover the Beaujolais wine route. In the heart of the communes of Quincié-en-Beaujolais, Odenas, Cercié, Saint-Lager, Charentay and Saint-Étienne-la-Varenne, tourists can also admire the sloping vineyards.
Brouilly remains one of the most renowned Beaujolais crus, in France and abroad. After all, it is the best-selling wine in chic Parisian brasseries!
A wine with a wide array of sensations
Brouilly wines can be savoured with the eye, nose and mouth. Their ruby red colour usually dons dark purple hues. Swirl it in your glass to enjoy its purplish highlights and admire its sparkling colour.
On the nose, this Beaujolais cru releases nicely ripe red fruit aromas. Take little sniffs to whet your appetite.
On the palate, this wine with a resolutely French charm, combines elegance with finesse. The mellow tannins give way to fruity aromas and floral delights. Last of all, the mineral notes accompany this delicious stroll in the heart of the Brouilly appellation.
A perfect wine for typically French dishes
The reason this wine is so popular in Paris is because it pairs perfectly with the dishes that have made French gastronomy famous.
Brouilly wine traditionally accompanies a Bresse chicken, simply braised and served with a few roasted potatoes, veggie couscous or a hamburger whipped up by your local neo-Bistro. However, this Beaujolais cru proves to be an excellent ally for your aperitifs during which you can serve verrines made with sweet potato, aubergine caviar, beetroot, creamed ham or split peas.
And a bottle of Brouilly will also carry you through to the end of the meal, since it goes just as well with desserts like carrot cake with coconut icing.
The finesse and elegance of Brouilly wines make them the perfect companions for meals with family and friends. Simply served as an aperitif or savoured throughout the meal, a bottle of this emblematic Beaujolais cru reveals its typically French charm, to be discovered and rediscovered time and time again!
More appellations
to discover