A PLACE & A WINE FULL OF CHARACTER
Stretching across four communes, mainly in the Rhône with a small part in the Saône-et-Loire, the Juliénas cru benefits from excellent sunshine exposure. The average altitude varies, starting at 230 metres and reaching 430 metres in the far northwest. The AOC definitely has one of the most diverse soils in the Beaujolais: schist, diorite and sandstone as well as clay.
The Juliénas appellation: an overview
Juliénas wines grow across the southern and south-eastern slopes of Mont du Bessay, which has a wealth of different terroirs. This hillside is divided into zones of granitic, sedimentary and "rotten rock" soils, which is what makes it possible to store these Beaujolais crus for several years without losing any quality. Subtly spicy, this appellation lives up to its name, which it gets from a certain emperor…
Commune

Juliénas

Lieux-dits

Les Capitans
Les Fouillouses
Les Mouilles
La Bottière
Vayollette
Bessay
En Rizière
Beauvernay
Bois de la Salle
Cotoyon

Altitude

330 metres

Soil

Blue stone (42%), granite (3%), piedmont deposits (29%), schist (14%)

Surface Area

575 hectares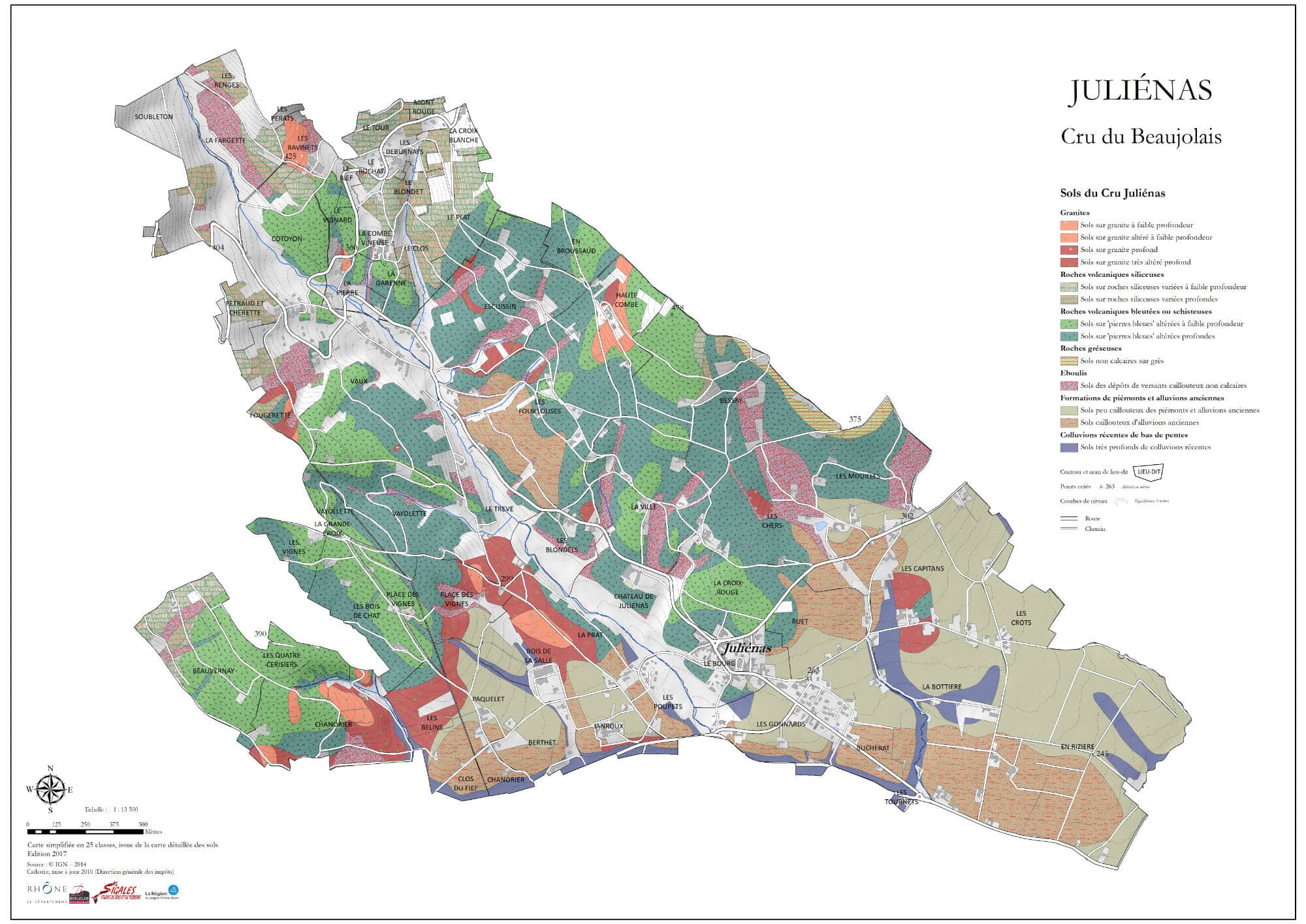 Characteristics
of Juliénas appellation
Tasting

Expressive, fresh, fleshy

Nose

Red fruit, strawberry, violet, cinnamon, redcurrant and peony

Culinary suggestions

Roasted chicken and crispy potatoes with gremolata, Roasted Mont d'Or cheese

Colour

Deep and intense ruby

Serving temperature

15-17°C

Palate

Bouquet of peach, red fruit and floral aroma
Learn more
about the Juliénas appellation
A WINE AS POWERFUL AS JULIUS CAESAR
Juliénas wines are so called in honour of Julius Caesar who occupied the region in 100 BC. His troops may have already been growing vines back then…
But the allusion to Julius Caesar isn't just in the appellation. The granite terroir, rich in alluvial deposits, also gives these Beaujolais wines unique character – character not entirely unlike that of the invincible general, who would surely appreciate the subtle mix of fruit and spice that emanate from Juliénas wines.
There is no shortage of adjectives to describe this outstanding Beaujolais cru: vigorous, robust, structured, seductive and elegant. Characteristics that are also used to describe Julius Caesar. A wine so like him it's borderline audacious!
And that's not all…
A WINE AS COURAGEOUS AS A LEGIONARY
Juliénas wines grow at heights of 250 to 470 meters in altitude on a slope that gets steeper and steeper. The vines are planted in poor soil and need all their strength and courage to grow properly and find the resources they need.
The gamay noir à jus blanc variety is perfectly up to the task and guarantees high-quality production. The courage of the vines is reflected in the complex bouquet of Juliénas: the floral, fruity, spicy aromas and mineral notes make for a harmonious blend.
A WINE AS WELCOMING AS THE GAULS
Juliénas is not known only for its excellent wines. It is also a charming village of about 800 inhabitants, a lively tourist haven that extends a warm welcome to travellers who come to discover the Beaujolais crus as well as anyone seeking to live in the village year round.
This small town is packed with places to visit such as the Old Church, the Caveau, the Bois de la Salle chateau, Juliénas chateau and the Maison de la Dîme. Of course, there are also many wineries ready to help you discover the flavours of a Juliénas wine.
And if you decide to visit the Beaujolais region in summer, don't miss the 'Nuits du Vin' in late June: a friendly 2-day festival with wine tastings in the village centre!
A visit to Juliénas is a must on a trip to the Beaujolais vineyards. The village is a great place for rest and relaxation as well as an extraordinary journey into a showcase of nature. The village's rustic style and its old-fashioned charm offer something akin to an imaginary journey back in time…
More appellations
to discover