Appellation
Moulin-à-vent
STRUCTURE & ELEGANCE
The windmill (moulin) – standing at 278 metres, surrounded by vineyards – is classified as a historical monument. It embodies the prestige and pride of the small appellation, straddles two communes, and benefits from a homogeneous terroir. After a few years, Moulin-à-Vent wines develop aromas of iris, wilted roses, spice and ripe fruit with notes of undergrowth and truffles, providing tannic, structured wines. When younger, they are floral and fruity, with violet and cherry aromas.
The Moulin-à-Vent appellation: an overview
Unlike the other appellations, don't pull out a map and look for a place named "Moulin-à-Vent" because you won't find it! The vineyards that produce this appellation are actually located in the villages of Romanèche-Thorins and Chénas. So, where does the name come from?
From deep in the history of Moulin-à-Vent wines, a rather special Beaujolais cru.
Commune

Romanèche-Thorins, Chénas

Lieux-dits

Aux Caves
Au Michelon
Les Verillats
Champ de Cour
La Rochelle
Rochenoire
Le Moulin à Vent
Les Thorins
La Tour du Bief
Le Dime

Altitude

255 metres

Soil

Granite, limestone, marl, sandstone

Surface Area

640 hectares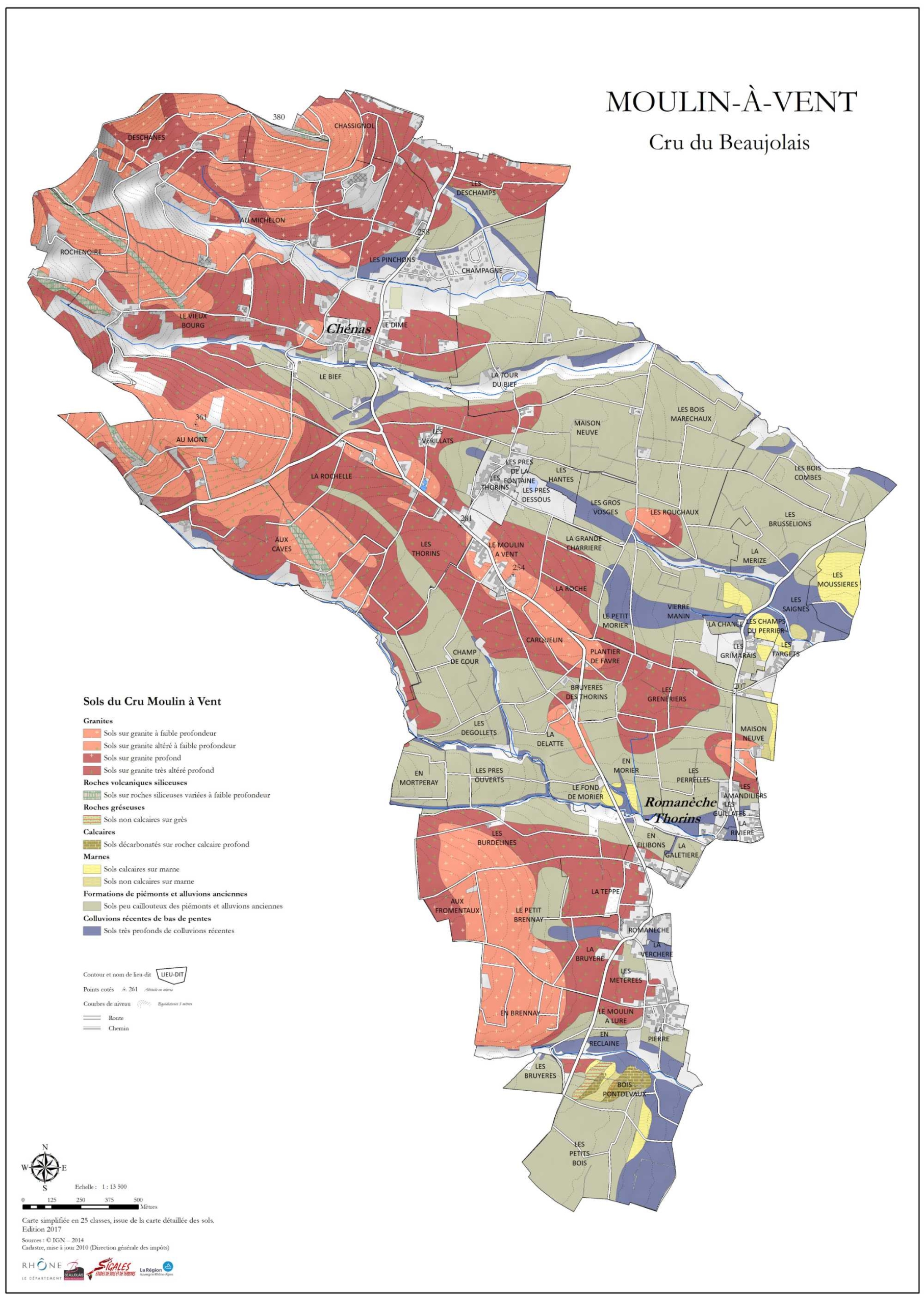 Characteristics
of Moulin-à-vent appellation
Tasting

Personality and prestige

Tasting occasion

Special occasions, holiday meals, dinner with guests

Nose

Blackcurrant, liquorice, wilted rose, ripe fruit

Culinary suggestions

Dutch baby pancakes with mushrooms, Duck breasts with dried fruit and roasted nectarines

Colour

Deep ruby red to dark garnet

Serving temperature

12-14°C

Palate

Structured and complex
Learn more
about the Moulin-à-vent appellation
A famous appellation
Moulin-à-Vent wines haven't always been marketed under this name. It used to be called the Romanèche-Thorins appellation. Strangely enough, only after the appellation name changed did it become one of the few Beaujolais wines not named after a specific commune.
It is the strength and power emanating from the old windmill overlooking the vineyards that earned the appellation its name. Without a doubt, the impressive 15th century building, standing guard over these vines of robust character, immediately sets the tone…
Nowadays, 300 winegrowers toil to cultivate this nicely-structured wine, one of the best known of the Beaujolais wines, alongside Morgon. The vineyards cover around 620 hectares and yearly produce over 1.5 million bottles of this outstanding long-keeping wine, which generally takes centre stage on special occasions.
The Lord of Beaujolais wines
Moulin-à-Vent is nicknamed "The Lord of Beaujolais wines" because of its noble bouquet. Its cellaring potential varies depending on the estate, but certain crus can be kept for over ten years. During that time, it develops slowly and releases its black fruit, spice and floral aromas.
Its intensity is drawn directly from the pink granite soil where the vines grow. The vine stocks get nutrients from the manganese in the soil which helps to produce the tasty grapes. Moulin-à-Vent wines end up with a magnificent cherry-red colour – a colour that demonstrates the ability of these prestigious Beaujolais crus to "pinoter" with age. That French term simply means that they slowly develop a bouquet similar to Pinot Noir, known for its intense ripe fruit notes.
A wine to accompany your special occasions
There's nothing like celebrating a major event with an excellent bottle of Moulin-à-Vent! Given the structured character of this prestigious Beaujolais cru, it is recommended as an accompaniment for sophisticated dishes.
Full-bodied, fleshy Moulin-à-Vent wines go beautifully with rabbit in mustard sauce, veal kidneys or stuffed turkey. Veggie lovers will enjoy them with eggplant, whether in lasagna, au gratin, cake or fritters – dishes that pair extremely well with the distinguished structure of an aged Moulin-à-Vent.
Moulin-à-Vent wines are for palates that appreciate tannic crus that have softened over time. They are great wines to cellar for ten years or more and then bring out for a social event. At Christmas, New Year's or any special occasion, this prestigious Beaujolais cru will add that special extra something as you raise your glass!
More appellations
to discover