Veggie couscous
Easy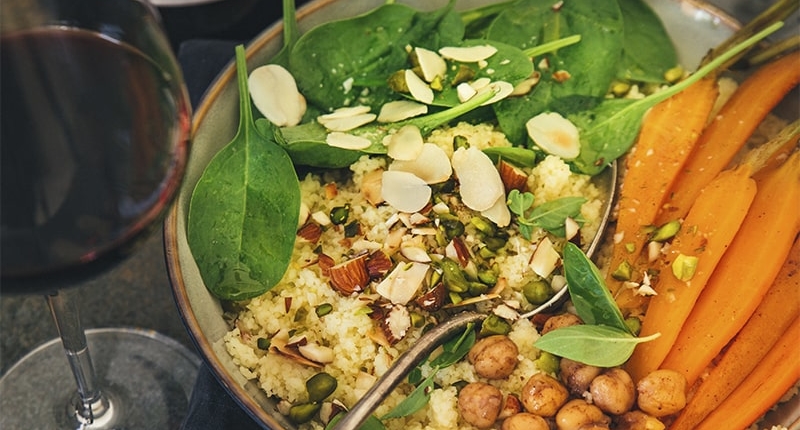 Ingredients
10 leafy carrots
1 tbsp olive oil
2 tsp cumin
2 tsp allspice
2 tsp cinnamon
2 tsp cane sugar
12cl water
30cl boiling water
250g couscous semolina
20g butter, in chunks
400g chickpeas (tinned), rinsed and drained
1 tbsp orange juice
Salt and pepper
50g baby spinach leaves
50g fresh mint
20g pistachios, shelled
20g almond slivers
Preparation
Step 1

Peel, rinse and cut the carrots in half lengthwise.

Step 2

In a pot, heat the oil and roast the spices for 30 secs. Add the carrots, sugar and water. Cook for about 10 mins or until carrots are tender.

Step 3

In a large bowl, pour the boiling water onto the semolina, cover and let sit for 10 mins. Fluff the cooked semolina with a fork, fold in the butter, and season.

Step 4

Tip the chickpeas into the pot, warm up for 3 mins over low heat and pour in the orange juice.

Step 5

Spread the semolina out in a large serving tray. Add the carrots, chickpeas and spinach. Decorate with a few mint leaves, almonds and crushed pistachios.