A TERROIR IN ALTITUDE
The Chiroubles cru is located north of the Rhône, in the heart of the village by the same name. The AOC is nestled on hillsides arranged in granite cirques whose series of amphitheatre-like valleys provide the vines with optimal exposure. These are the highest vines in Beaujolais (often on slopes with inclines over 30%), a guarantee of cool temperatures in the face of the current climate change. The Chiroubles growers are often considered "heroic", given how physically demanding and meticulous the work is on the rugged hillsides.
The Chiroubles appellation: an overview
Chiroubles… This Beaujolais wine with the unusual name owes its ruby red colour and floral tones to the expertise of 80 wine growers, who look after their vine stocks every single day. Chiroubles vines grow at between 250 and 450 meters in altitude and are bathed in sunshine day after day, giving them that delicious, unmistakable taste.
Commune

Chiroubles

Lieux-dits

Javernand
Bel-Air
Les Pontheux
Chatenay
Les Roches
Tempère
Fontenelle
Rochefort
Grille Midi
Les Bonnes

Altitude

410 metres

Soil

100% Pink granite

Surface Area

315 hectares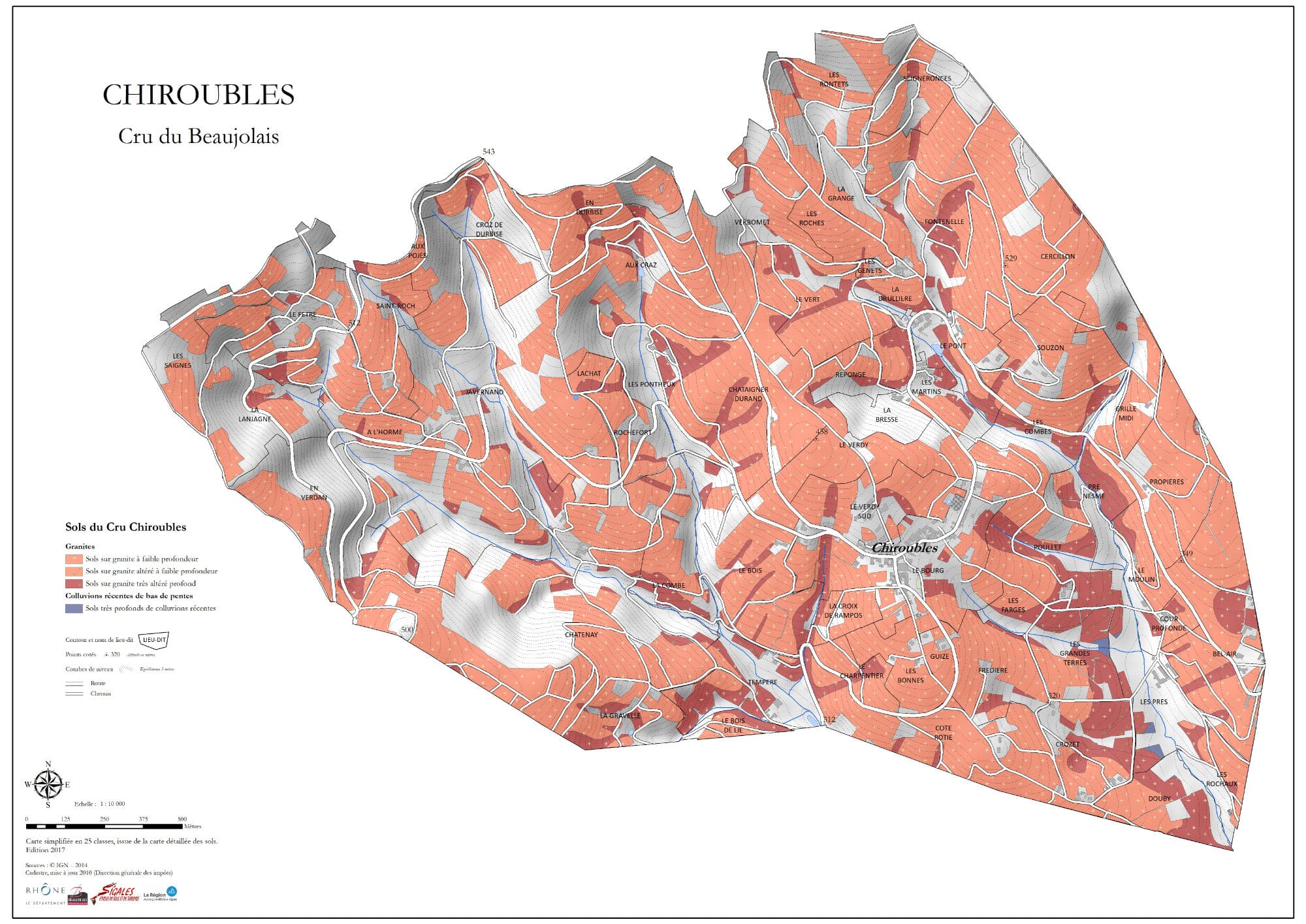 Characteristics
of Chiroubles appellation
Tasting

Fresh, generous, expressive

Tasting occasion

Aperitif, brunch, picnic

Nose

Floral, iris, lily, violet, peony

Culinary suggestions

Thai-style veal blanquette, chicken minestrone

Colour

Ruby red

Serving temperature

13-15°C

Palate

Red fruit
Learn more
about the Chiroubles appellation
A wine where gamay is at its best
Its ideal location in altitude helps the Gamay grape to develop. This traditional Beaujolais wine grape variety gets its delicious taste thanks to the rays of the sun absorbed in the heart of the grapes.
Red fruit notes reinforce the impression it makes on the palate and produce a delicate wine that can be kept for several years. Gamay reveals the full extent of its potential in these wines. Chiroubles can be drunk straight away or laid down for a while to allow it to become more delicate and fruitier still.
For two or three years after the harvest, the bouquet will continue to evolve and flourish, making it even more of a gourmet treat when it is finally opened…
A wine that flourishes in the sun
Both fruit-driven, delicate on the palate and elegant, Chiroubles wines are bright red in colour with a sumptuous nose where floral aromas blend together, evoking small red fruit, offering freshness and delicacy on the palate. That freshness can be accredited to the vines that rest on the granitic sound common to Chiroubles and to an optimal amount of sunshine.
Stretched out on a beach, soaking up the sun is the perfect recipe for satisfied grapes. As a matter of fact, they like this exceptional environment so much that they enjoy it a week longer than other vineyards.
Yes, the Chiroubles harvest takes place a week later than other Beaujolais wines!
A perfect wine for an evening with friends
Although Chiroubles has a mellow bouquet, it is a wine that will delight every palate! Men and women, connoisseurs and amateurs appreciate this appellation particularly for evenings with friends when lively conversations and aperitifs make a perfect combination.
Chiroubles wines take pride of place at a dinner with close friends enjoying a get-together around a tray of charcuterie in the winter or at a summer barbecue.
This Beaujolais wine has definitely proven to be the perfect match for Thai-style veal blanquette and chicken minestrone. Try one of those pairings at your next dinner party!
Chiroubles reveals its nature as soon as you set eyes on its colour. Even in its youth, the purplish hues create a craving for this gourmet wine that fills the mouth with a bouquet of flowers and red fruit. Supple with little tannin, it remains a gateway to the world of Beaujolais wines for enlightened connoisseurs and a sure value for enthusiasts looking for a warm, convivial wine.
More appellations
to discover