Cauliflower curry
Easy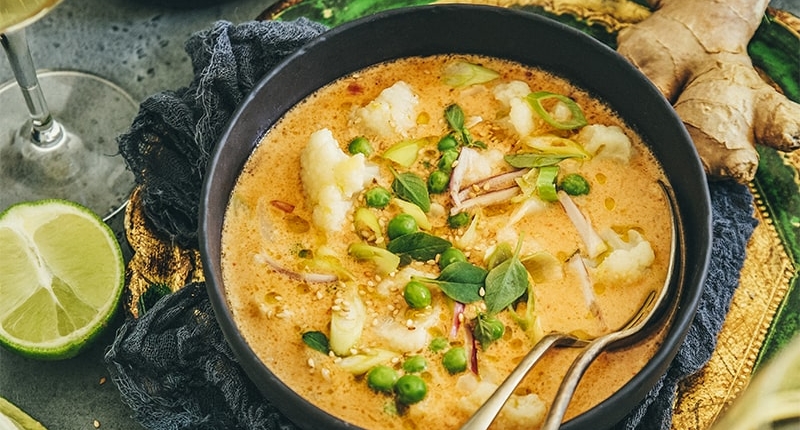 Ingredients
½ cauliflower
4g butter
1 shallot
1 stalk lemongrass
1cm fresh ginger, chopped
3 tbsp red curry paste
50cl coconut milk
1 tbsp brown sugar
1 lime (juice and zest)
A few sprigs fresh coriander
1 spring onion, minced
Salt, pepper
Preparation
Step 1

Remove outer leaves from cauliflower and chop into florets (curds).

Step 2

Bring a large amount of salted water to a boil. Drop in the cauliflower florets and cook for 15 mins.

Step 3

In a frying pan, brown the butter. Add the chopped ginger, lemongrass cut into pieces, and minced shallot. Brown.

Step 4

Stir in the red curry paste and cover with coconut milk. Add the sugar, lime juice and zest. Bring to a boil, then reduce to thicken for about 15 mins.

Step 5

Stir in the cauliflower florets, then continue cooking for 5 mins. Season to taste with salt and pepper.

Step 6

Before serving, garnish with finely chopped coriander and minced spring onion.