Appellation
Beaujolais Villages
FROM DIVERSE TERROIRS, MULTIPLE WINES
The Beaujolais Villages appellation is located in the northern part of the vineyard and includes 38 villages. The steep vineyards, facing east-south-east between 200 and 500 metres in altitude, surround the 10 Beaujolais crus of the northern half of the vineyard, where there are as many terroirs as there are villages. As the vineyard's mid-range wines, between the AOC Beaujolais and the crus, they can be enjoyed young or after a few years of cellar ageing. The wines produced in the southern part of the Beaujolais Villages appellation are easy-to-drink and fruity; those from the central area are richer and structured; and in the area of crus, the wines are more robust and round.
The Beaujolais Villages appellation: an overview
The Beaujolais Villages appellation is cultivated on the region's best hills. Stretching out over 38 communes, the Beaujolais-Villages vines flourish thanks to the special sunshine on these terroirs since this prestigious vineyard stands on granite, sandy soils with some volcanic sedimentary rock. Gamay, the emblematic grape variety of the Beaujolais region, expresses its full potential here: Beaujolais Villages are expressive, intensely fruity and fragrant. It's high time you took a plunge into the heart of this appellation, passionately managed by over 1000 winegrowers, exactly half of whom have private wineries.
Commune

38 producing communes

Altitude

332 metres

Soil

Gneiss, band of blue stones, sandstone, shale, granite

Surface Area

3390 hectares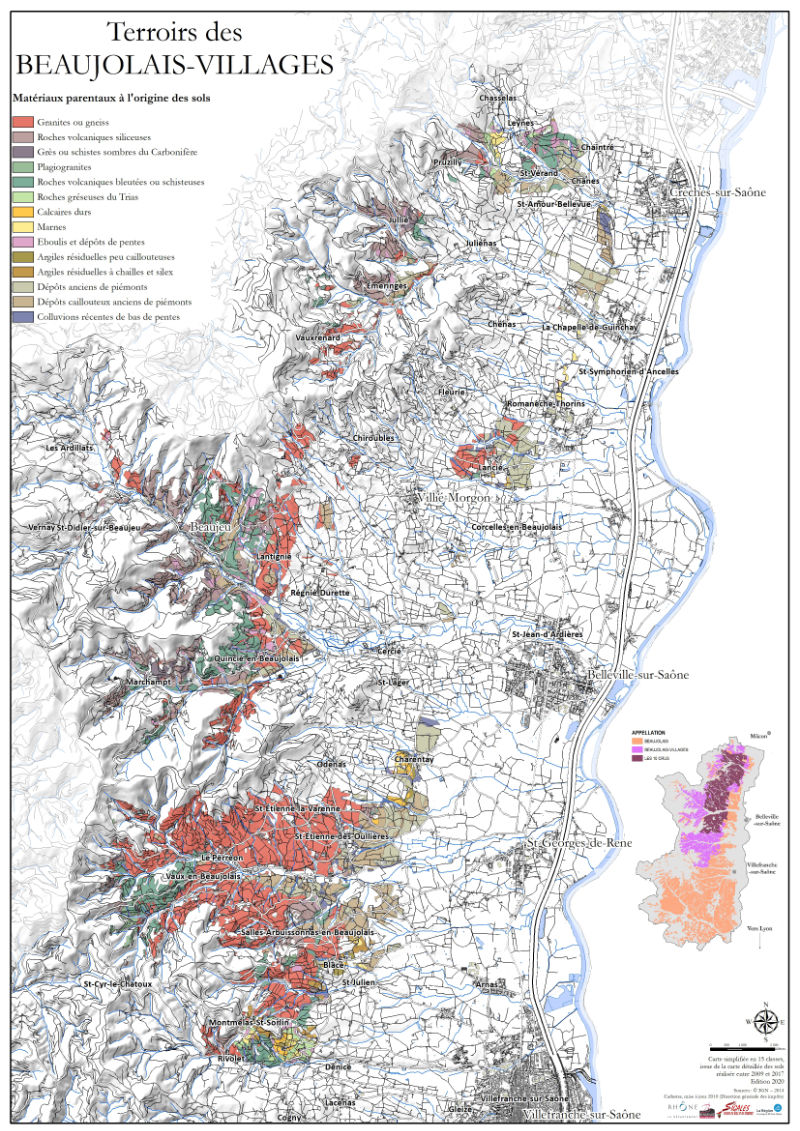 Characteristics
of Beaujolais Villages appellation
Tasting occasion

(festive meals, aperitifs with friends) on any occasion

Nose

Fruity, citrus, mineral

Culinary suggestions

Seafood, spice-crusted salmon, cod burger, scallops in cream sauce, sweetbreads, pike in white butter sauce, roasted pork with apples, sole meunière.

Colour

Intense, pale gold

Serving temperature

7-10°C

Palate

Mouth-filling, balanced
Tasting

Supple, delicate, rich and expressive red fruit fragrance

Tasting occasion

Since there's a wine for every occasion, in Beaujolais Villages, you're bound to find what you're looking for amidst our villages.

Nose

Black and red fruit

Culinary suggestions

Grilled rib of beef, roasted veal with mushrooms, skirt steak with shallots, pork chops in tomato sauce, beef bourguignon, chicken liver loaf, cream of lentil soup, rabbit terrine, grenadine of veal, strawberry and peach soup with black pepper, praline tart and wine-poached pears

Colour

Garnet red, ripe cherry

Serving temperature

12-14°C

Palate

Powerful, structured and harmonious
Tasting

Produced in small quantities and in high demand, its forwardness is what's appealing.

Tasting occasion

Festive meals, aperitifs with friends

Nose

Black and red fruit

Culinary suggestions

Parsley ham, chicken sautéed with bell peppers, grilled aubergines with tomato and parmesan, oven-baked mackerel, Provençal-style roast chicken breast, pasta salad with bell pepper and tuna, fresh fruit salad

Colour

Pale pink with salmon-pink highlights

Serving temperature

5-8°C

Palate

Mouth-filling and crisp, offering roundness and refreshing smoothness
Learn more
about the Beaujolais Villages appellation
HISTORY DATING BACK TO 977
If you have ever had the chance to visit the Beaujolais Villages appellation, you have most likely seen the magnificent château that overlooks the vineyards. It is hard to miss the marvellous estate in Pierres Dorées. Nicknamed 'Sleeping Beauty's' Château, it is in fact Château de Montmelas. Restored in the Gothic Revival architectural style in the 19th century by Louis Dupasquier, a Lyonnais architect who was a contemporary of Viollet-le-Duc, its history actually dates back to 977.
At that time, it was the residence of the Lords of Beaujeu, who gave their name to the Beaujolais region, as you will no doubt have guessed! It was also at this time that the monks of Cluny played a role in developing the vineyard on many hillsides which would later be classified as an appellation.
THE FIRST "VILLAGES" APPELLATION IN HISTORY
Of course, the Beaujolais Villages appellation is not limited to the area around Château de Montmelas alone. Smaller than that of the Beaujolais appellation, the production area actually surrounds the 10 crus.
It is worth nothing that, although you can now find different wines that include the name "villages", in 1950 Beaujolais was the first to officially use the term to designate a very specific part of its AOC.
Beaujolais Villages wines are essentially red, but the Beaujolais Villages white and rosé wines are worth discovering. These vintages – rarer in quantity – are often in high demand by connoisseurs, looking for an aromatic wine with a certain complexity and structure.
A HEROIC WINE
The Beaujolais Villages appellation is sculpted on the best slopes of the vineyard, located between 190 and 550 metres in altitude.
When people talk about the Beaujolais Villages vineyards, it is not uncommon to hear them describe it as "heroic". It is true that the vineyard is often located on especially steep slopes! Both the vines and the winegrowers deserve respect as they enhance the hillsides on this terroir. Imagine the physical feats the winegrowers have to make to cultivate the vines on a daily basis.
The next time you make a toast with a glass of Beaujolais Villages, you will no doubt have a thought for the men and women who cultivate it with passion day after day. Harvesting is mostly done by hand, which gives the winemaker more work and the wine more quality. Harvest time definitely offers the perfect opportunity to select only the best grapes to ensure that each cuvée has an intense, yet supple bouquet. When tasting, have fun naming the different red fruit aromas that blend together to make such expressive wines.
Above all, wines from the Beaujolais Villages appellation can be enjoyed throughout the year.
Beaujolais Villages winemakers are also making "nouveaux" wines in red and rosé !
Last but not least, the Beaujolais Villages appellation is available in a "Nouveau" version which is available for tasting from the 3rd Thursday of November. They make up 40% of the wines sold as Beaujolais Nouveau reds and rosés.
More appellations
to discover