Spicy lamb pizza
Easy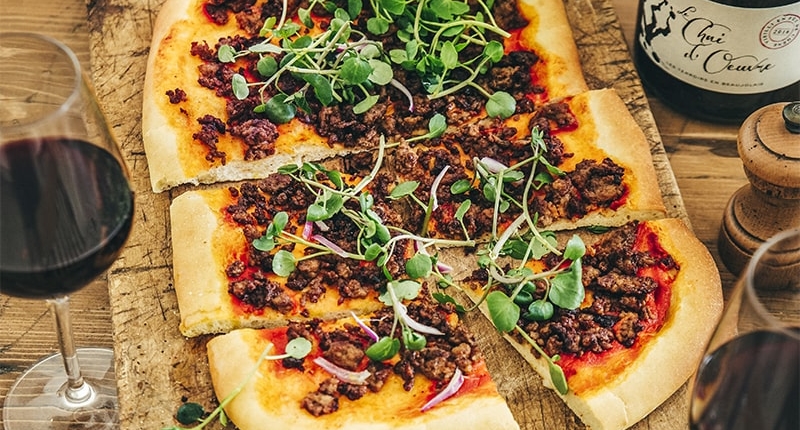 Ingredients
400g plain flour
200g warm water
6g fresh yeast
8g salt
12g sugar
32cl olive oil
240g ground lamb meat
1 small red chilli pepper
1 tsp cinnamon
1 tsp cumin
A few sprigs of fresh thyme
20g watercress
½ red onion, minced
A trickle of olive oil
1 lemon, juiced
Salt and ground pepper
Preparation
Step 1

Start by crumbling the yeast, then diluting it in warm water. Let stand for a few minutes. In a standing mixer bowl, combine the flour, sugar and salt. Fold in the water and yeast mixture. Knead it all at low speed for 5 minutes, add the olive oil and continue kneading for a few minutes more.

Step 2

Place the well-floured dough in a large bowl, cover tightly with cling film and let stand for 1hr30 in a warm place.

Step 3

When the dough has doubled in volume, loosen it by punching it down gently with your fist. Lightly flour your work surface and divide the dough into 4 balls of equal weight.

Step 4

Using a rolling pin, flatten the balls to the desired size. Cover with a damp cloth and leave it to expand 30 minutes.

Step 5

Meanwhile, prepare the topping. In a frying pan, sauté the spices and the meat over high heat for approx. 5 mins. Salt and pepper to taste.

Step 6

Preheat the oven to 220°C. Spread the tomato sauce over the pizza dough. Add the lamb, a few sprigs of thyme and bake for approx. 15 mins.

Step 7

Remove from oven, add the watercress and slices of red onion. Finish with a trickle of olive oil and lemon juice. Serve immediately.